Seat on first 787 Dreamliner sells for $34,000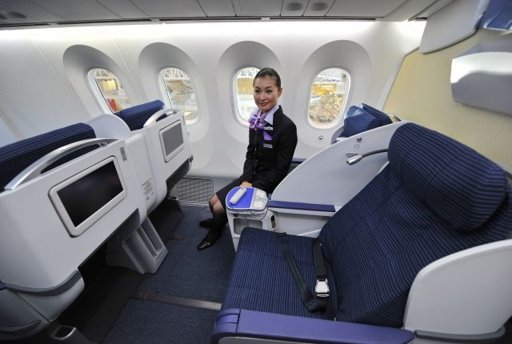 The first Boeing 787 Dreamliner is going into service at All Nippon Airways (ANA). A good occasion to spread the news through a charity sale. A single seat on the first commercial flight of Boeing's new 787 Dreamliner has been bought for more than $34,000. The airline auctioned six business class seats on the plane's inaugural flight, which left Tokyo bound for Hong Kong.
Bidders pushed up the cost of the ticket on eBay to the equivalent of $34,000 — around 13 times the price of a regular business class seat for a flight between the two cities. The airline is planning to donate proceeds from the auctions to international environmental NGOs.
The aircraft,  Boeing's first 787 Dreamliner to go into service, landed in Japan late September, three years after it was originally promised to ANA.
The delivery came after a string of technical mishaps and delays that have cost US-based Boeing billions of dollars in lost or cancelled orders and seen it give ground to fierce rival Airbus.
Boeing says the twin-aisle 787's construction, partly from lightweight composite materials, means it consumes 20 percent less fuel than comparable planes, an attractive proposition for airlines facing soaring fuel costs.
[adsenseyu1]
More:  news.yahoo