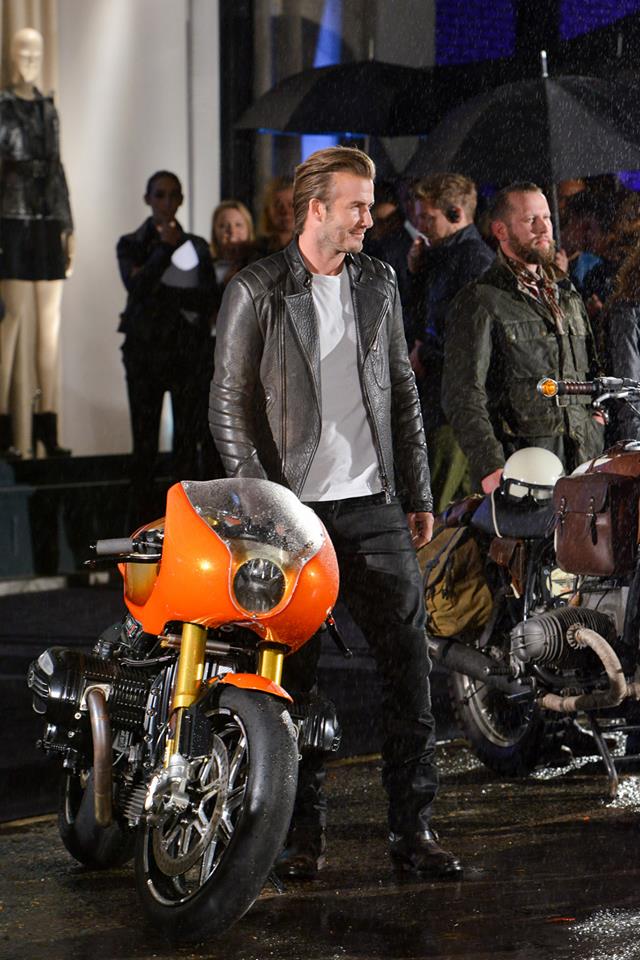 Belstaff House New Bond Street opening event was used by the global luxury lifestyle brand to announce the football and fashion star, David Beckham as the new face of the British house. A motorbike parade down London's home of luxury retail offered a show for luxury British retailer who wants to reinvent itself as an English iconic outerwear company. The new 26,000 square foot flagship store on New Bond Street was celebrated by the recently retired footballer with a new campaign for Spring 2014 shot by famous photographer Peter Lindbergh.
"What I love about riding is the freedom part," Beckham told WWD. "When you're out there, no one knows that it's you. You have a full-face helmet on, so you enjoy just being alone."
And it was via his bikes that he first found Belstaff: "I was looking for a cool biker jacket. So I went into this vintage store and came across this vintage Belstaff jacket. I bought it and have worn it ever since."
"This store represents the return to our roots, to our DNA, to England. David Beckham is amazing. He is a pure biker. He has 12 bikes. He is the modern day Steve McQueen. So he is our Steve McQueen," said Harry Slatkin, CEO Belstaff.
Since its inception in 1924, when Belstaff's spirit of innovation resulted in the development of the first waxed cotton clothing to meet the demand of the nascent motorcycling industry, the brand has evolved in step with aviation and motorsports development. In 2011 LABELUX Group, the Swiss luxury goods company, privately owned by Joh. A. Benckiser SE, announced that it had acquired Belstaff.