Lighting the McLaren's afterburner with more boost. Hennessey speeds up McLaren MP12 supercar.
In stock form, the McLaren and arch-nemesis Ferrari 458 Italia are a near dead heat in any standard acceleration test, but the McLaren MP12' HPE700 upgrade puts the carbon-chassis British heartthrob car-lengths ahead in the quarter mile.
McLaren's new P1 hybrid supercar is an astounding machine, both in its total output of 903 horsepower and its staggering $1,150,000 window sticker. But consider that a blood relative can approach its performance for a mere fraction of its price: McLaren's very own 12C fortified with Hennessey's HPE700 upgrade that endows the twin-turbo 3.8-liter V-8 with 14 percent more power.
"The Hennessey McLaren HPE700 broadens our reach in performance tuning to European supercars. Both midrange power and torque are bumped, but the real hair-on-fire ride begins from 4000 rpm to the 8500-rpm redline," says John Hennessey, president and founder of Hennessey Performance.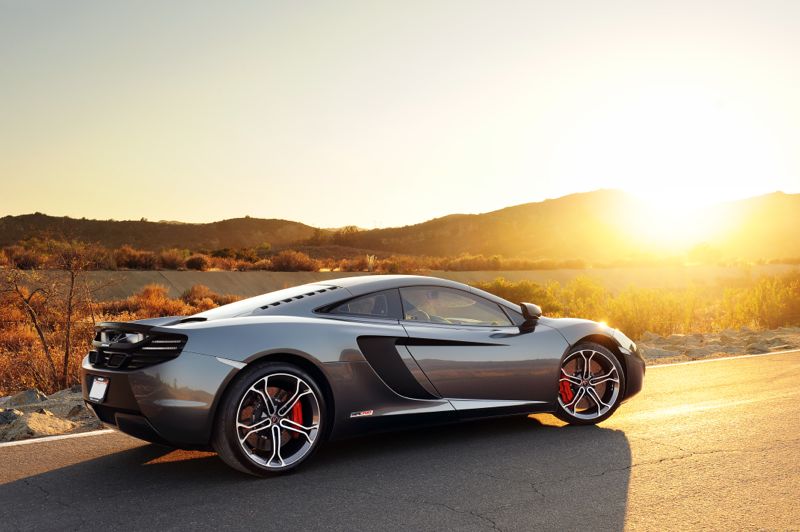 For $19,500, the HPE700 package increases the McLaren's output to 704 horsepower at 7,500 rpm and 538 lb-ft of torque at 5800 rpm, enabling a 0-60 sprint of 2.8 seconds and a scorched-earth quarter-mile time of 10.3 seconds at 137 mph.
It's fair to say that David T., owner of the first McLaren HPE700 who's owned everything from a Ferrari 430 GT1 race car to a Porsche Carrerra GT, was highly impressed—possibly even gobsmacked, as the Brits like to say—with the extra power: "I gave you an extremely fast car, and was given back a starship with advanced trans-warp drive. For the first time in my life (and I really mean the first time), I might actually have achieved fast enough, and that is a place I never thought I'd reach. After all, why would anyone mess with the square root of exhilaration?"
The HPE700 upgrade also includes a throatier-sounding stainless steel exhaust system (ensconced deep within the McLaren's extensive heat shielding), high-flow air filters and aluminum serial-numbered Hennessey plaques for both the engine compartment and interior, while Hennessey exterior badges announce the extra power in a tasteful, subtle way. Each HPE700 McLaren is thoroughly dyno-tuned and road-tested, and is backed by a 1-year/12,000-mile limited warranty.