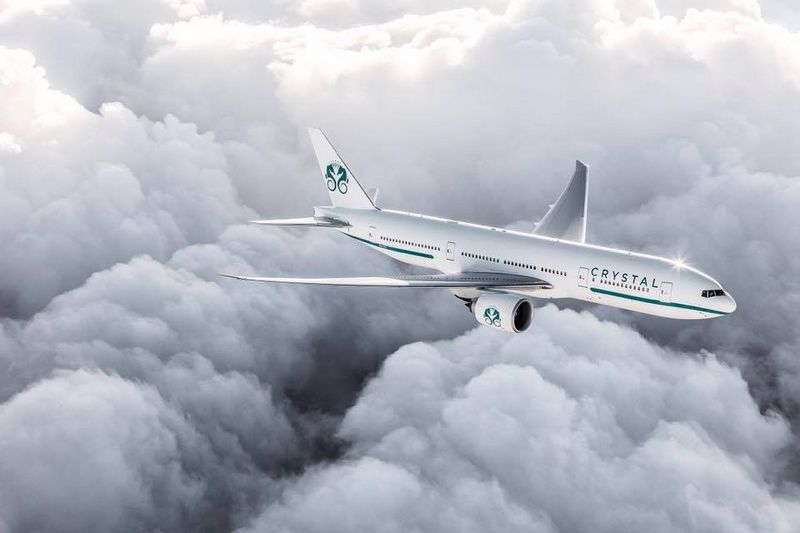 Crystal Cruises is the World's Most Awarded Luxury Cruise Line, having earned more "World's Best" accolades than any other cruise line, hotel, or resort in history.
Crystal is elevating to new heights in luxury with the launch of Crystal AirCruises. In 2017, its sleek and luxurious Boeing 777-200LR will travel the world with just 84 discerning guests. . Crystal's privately owned Boeing 777-200LR is currently being transformed to meet Crystal's exceptional standards of customization, and will boast plush, fully reclining Crystal Exclusive Class seats, airy social spaces, large flat-screen TVs, Crystal's famous butler and concierge services and Michelin Star-inspired cuisine.
Crystal's Boeing 777-200LR is larger and newer than any private jet travel option, appointed with features more commonly found in luxury suites. The custom Crystal Exclusive Class seats fully recline to lie-flat beds, measuring 73.5 inches long, for maximum personal space and ergonomic comfort, while the expansive social lounge with stand-up bar, two divans and four dining tables with dedicated seating for six guests fosters friendly camaraderie among luxury travelers. Cuisine will be prepared by a dedicated executive chef in two state-of-the-art galleys and paired with an elegant premium wine list.
Guests will also enjoy creature comforts and conveniences including Bose Noise Cancelling headphones, Apple iPads, complimentary global WiFi, 24-inch interactive TVs with on-demand programming and music library, individual USB ports and power outlets, and a live cockpit-to-ground listening channel. Custom blankets, lumbar and pillows, plush duvets and mattress toppers – as well as spacious lavatories appointed with ETRO amenities – offer more than the comforts of home during the global journeys.