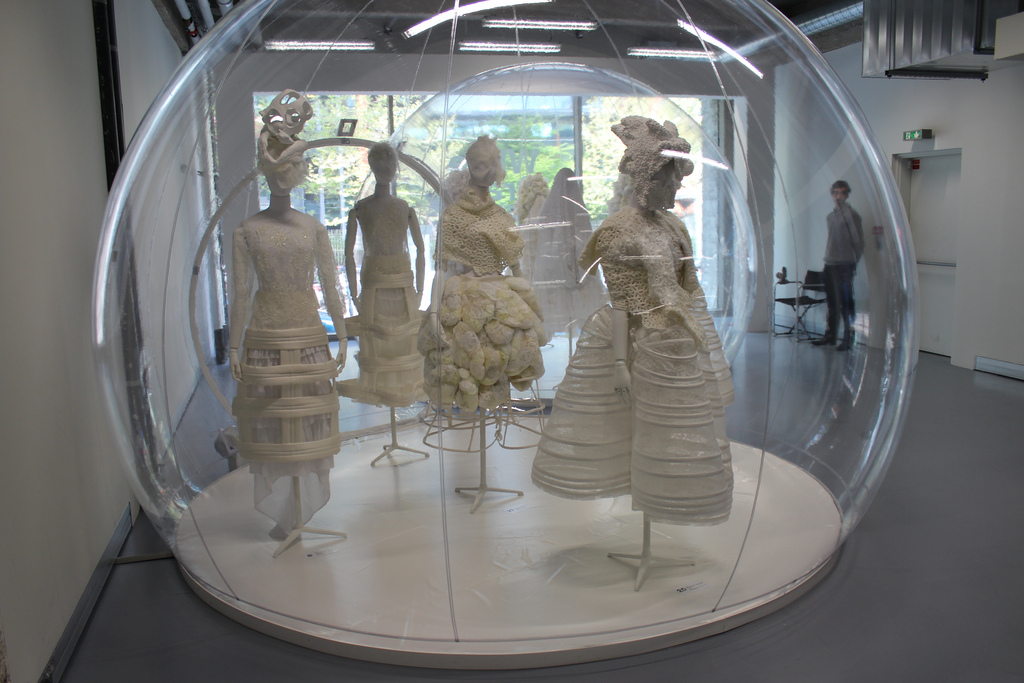 "Les Docks, Cité de la Mode et du Design" in Paris opened a new part of their public spaces with the simultaneous presentation of two exhibitions: one devoted to Rei Kawakubo & Comme des Garçons, the other to Cristóbal Balenciaga.
Cristóbal Balenciaga exhibition, Fashion Collector
In homage to the master of couture (1895-1972) and the 40th anniversary of his death, the exhibition reveals, with the support of the House of Balenciaga, a fashion collection passionately assembled by the designer and generously donated to the museum by the family. The exhibition runs from April 13 to October 7, 2012 at the Docks – Cité de la Mode et du Design in Paris.
COMME des GARÇONS White Drama exhibition (till October 7) 
Les Docks and Galliera Museum invites you to discover the Spring-Summer 2012 Comme des Garçons show. There is no catwalk allocated here, no platform, no timing … it's not a parade but an installation designed by Rei Kawakubo, where the visitors are free to admire the white dresses as close as they want.
Alongside these two exhibition there are workshops and spaces dedicated to young avant-garde fashion designers as Yiqing Yin, Pigalle and Bleu de Paname. In the design section, two galleries (Magasin M1 and M3) offers the collections of young French and international designers and thematic exhibitions conceived by Chantal Hamaide from Intramuros magazine, and Philippe Boisselier, architect and interior designer.
Les Docks – cité de la Mode et du Design
34 quai d'Austerlitz
75013 Paris
Tél. : 01 76 77 25 30