The future for efficient long range cruising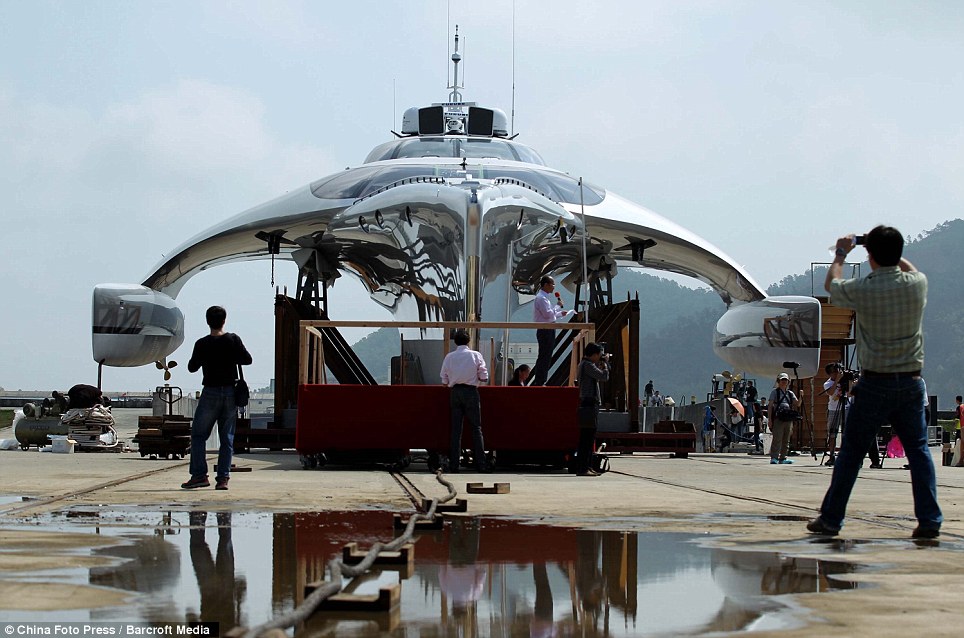 After 5 years of of planning and construction, 42,5-metre luxury trimaran yacht Adastra was launched to the water to the delight of boating enthusiasts.
Designed by John Shuttleworth Yacht Designs and built by McConaghy Boats in Zhu Ha, China, Adastra trimaran has an astonishing 4000 nautical miles at 17 knots, enough to go from the UK to New York in a single trip without refueling. The trimaran was built for a couple based in Hong Kong, at the cost of a cool $15 million.
The main materials used in its construction enable it to obtain maximum lightness to limit consumption: a superstructure from carbon fibre with Nomex honeycomb core, the hull is Glass/Kevlar foam sandwich and the interior is oak cabinetry using honeycomb panels.
To help reduce weight, virtually every aspect of the boat is custom built. This includes carbon fibre hatches, portlights, ladders and even hinges, which are all built specifically for the vessel.
"Adastra" is the result of more than 5 years of design and discussion with the owners (clients Anto and Elaine Marden), to build a yacht that meets the needs of a very experienced ocean voyaging couple and their family, and to provide the level of comfort and style that would be expected in a yacht of this class and size. No effort has been spared in the challenge to produce a beautiful yacht that will have low fuel consumption and yet provide excellent sea keeping qualities and luxurious accommodation. "Adastra" takes the power trimaran concept further than has ever been attempted before, previous vessels like "Earthrace" and "Cable and Wireless" were stripped out record breaking machines.
A SiMON_ integrated ships monitoring system monitors fuel, security, pump sensors, electrical, lights, etc. The vessel has a fully automated fuel management system which includes an Alfa Laval system for cleaning the fuel.
Adastra's 16 metre beam creates a spacious saloon area on the main deck which offers superb views through a panoramic window and accommodates a lounge area, dining table, and navigation station. A forward facing door through the saloon window gives easy access to a large sunbed on the foredeck.
The aft deck has a sofa and bar area to port and a dining area to starboard, further aft of this there is space for a 4.9 metre tender and directly below is a garage which can store a 3.1 metre tender. The garage door has been designed to fold out and create a large dive platform. Extra space has been created below deck by slightly flaring the central hull just above the waterline. This area has been split into two sections with a full-width master cabin located aft with access from the deck saloon, and two further guest cabins, accommodation for the crew, and the galley located forward of the engine compartment.
Adastra trimaran offers luxury accommodation for nine guests and up to six crew members. The main helm station, which has seating for two, is positioned in a raised pilot house situated between the aft deck and the saloon area and forms part of the cross beam structure.

Adastra luxury trimaran yacht specifications:
Length – 42.5 metres
Beam – 16 m
Hull Draft – 1.12 m (1.6m to tip of rudder)
Main engine – 1x Caterpillar C18 -1150 hp @ 2300 rpm
Outrigger engines – 2x Yanmar 110hp @ 3200 rpm
Generators – 2 x 36 kw custom in the outriggers linked to 110 Hp Yanmar engines, and 1x 26 kw
Northern lights in Main engine room
Owner and Guests – 9
Crew – 5-6
Displacement light – Fully equipped and full stores and crew, no fuel and no water – 49 tonnes
Displacement cruising max – (normal operational load) 15000 litres fuel – 64.8 tonnes
Displacement ocean passage max – (only for occasional long ocean passages) 32000 litres fuel – 77 tonnes
Speed max – 22.5 knots
Range at 17 knots – 4000 miles
Fuel consumption at 13 knots – 90 litres per hour.
Fuel consumption at 17 knots – 120 litres per hour