Controlling the British Weather and the digital world: Burberry Prorsum Womenswear Autumn – Winter 2012 2013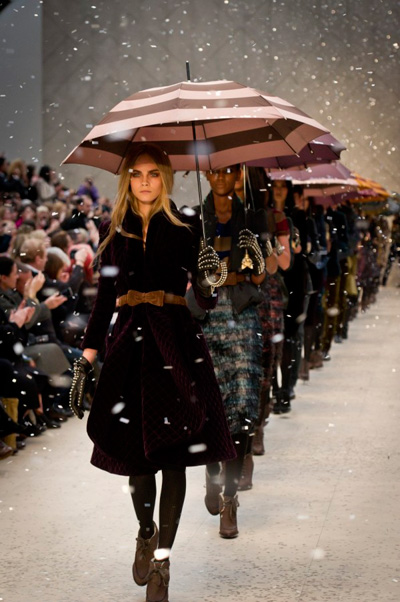 Burberry Prorsum Womenswear Autumn/Winter 2012 show transformed the physical experience completely digitalising it.
"We stream the show from Burberry World to digital billboards – airports, news networks, train stations, your phone, your iPad or our bricks and mortar stores globally. Everything that we create lives on Burberry World – it's our digital home but it's all around us. The show is one of the most powerful expressions of this brand – we take every element of this physical experience and completely digitalise it. Everything from the British weather, music, the design process, the collection and more can be explored. It's an incredible year for London and we want to share the energy and excitement here with our broad global communities," explained Christopher Bailey, Chief Creative Officer.
Burberry created an immersive physical and digital British weather experience with an interior and exterior special-effects rainstorm surrounding the entire show space, as part of the show finale.
Burberry, the inventor of the 'Tweetwalk' show, partnered with Twitter again to premier the Autumn/Winter 2012 collection through an animated Tweetwalk live from the show space. Every look was shared before the models hit the runway through animated imagery, allowing followers to view the collection moments before anyone else.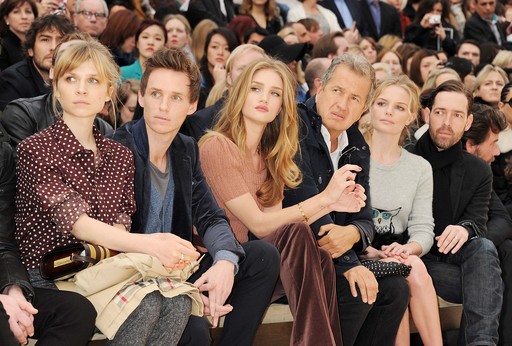 Tweetwalk was also live streamed for the first time through digital outdoor screens on Cromwell Road in London.
Burberry has a combined following of over 860,000 on Twitter, making it the most followed luxury brand on Twitter.
For the first time, show content was streamed through Burberry World onto digitally enabled screens at London's Liverpool Street station, Heathrow Terminal 5, Cromwell Road and giant LED screens on the facade of Burberry Beijing.
Show soundtrack including an exclusive track by British Burberry Acoustic musician Rae Morris was live streamed across all platforms as part of the online experience directly from the show space. Browse & buy the Burberry Prorsum Womenswear Fall Winter 2012 2013 collection at luxury online retailer LuisaViaRoma.