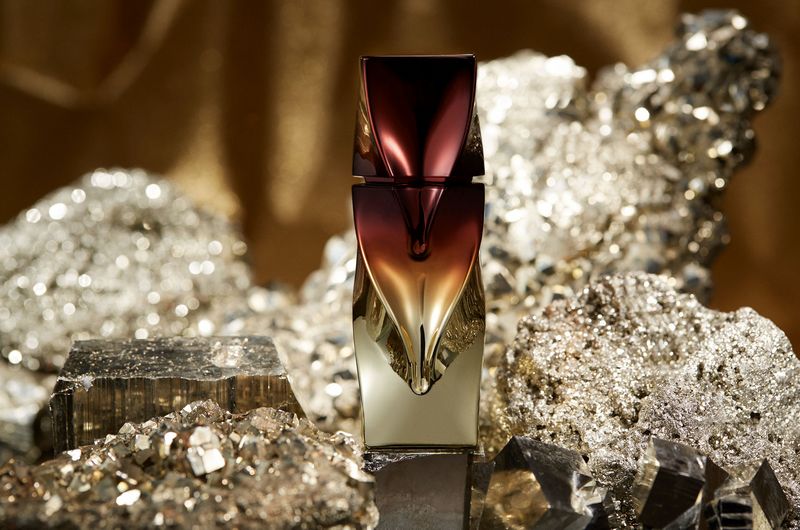 A precious oil touching the skin produces a scent that is utterly personal to the woman wearing it. The perfume oil is a strong elixir containing the highest concentration of fragrance oil and no added water or alcohol, which means it provides a more intimate experience than a conventional form of fragrance.
To renew the way precious oils were treasured in the past, Christian Louboutin launches three perfume oils. The collection is a new way to experience his three signature women's fragrances: Bikini Questa Sera, Tornade Blonde and Trouble in Heaven.
"There is one present moment," says Christian Louboutin, "and then there is the trace, le sillage, I think of it as its memory."
The designer has always loved the idea of the ritual of beauty, which is why he wanted the perfume oil to be applied with a glass dabber contained within the bottle. Each woman can delight in her own very personal ritual, choosing where to apply the oils: décolleté, wrists, collarbone, along her legs, her inner arm, and the nape of her neck. The oil is intended to be massaged into the body inviting the pleasure of sensation. A collaboration between Christian and Heatherwick Studio, the visually hypnotic and tactile oil bottle undulates with harmonious and dynamic energy.
The perfume oils are produced by Christian Louboutin Beauté (CLB; formed in 2012), a global joint venture between French luxury accessories brand Christian Louboutin and Batallure Beauty, and is headquartered in New York City.
The designer is instrumental in the development of every beauty product of the house. In August 2014, Nail colour launched as the most natural entry category for CLB, the original inspiration for the iconic red soles having come from a stroke of red nail colour in 1992.
One year later, the high-end brand launched a collection of 38 jewellery-inspired Lip Colours offering three different finishes; Silky Satin, Matte Velvet, and Sheer Voile alongside five lip definers to suit all lip tones and in June 2016, Loubilaque, a high-shine and high-pigment lip lacquer was introduced.
September 2016 saw the launch of an entirely new facet of the Christian Louboutin vision of beauty with parfum created for women in three unique scents: Bikini Questa Sera, Tornade Blonde and Trouble in Heaven.