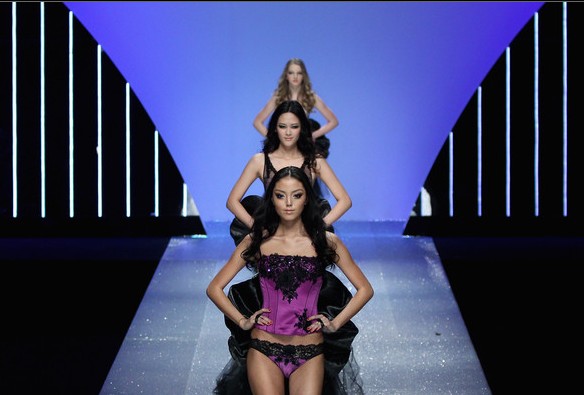 This article titled "Chinese brands coming to the British high street" was written by Zoe Wood, for The Guardian on Friday 27th July 2012 18.20 UTC
"Made in China" is usually what it says on clothing labels, but ambitious Chinese retailers are now looking to make their own brands household names in the UK.
The high street is the latest target of the deep-pocketed Chinese, who are on a buying spree in Britain and have already taken stakes in companies as diverse as Thames Water, Weetabix and Savile Row tailor Gieves & Hawkes.
Chinese fashion giant Bosideng opened its first store in the UK in the West End of London this week to cash in on the influx of visitors for the Olympics, while Chinese fashion label Eve said it wanted to become "the Chinese McQueen" and is heading to London next year.
Bosideng, with sales of more than £800m last year and more than 8,000 stores, is as well known in China as Marks & Spencer is here, and is best known for its colourful down-filled "puffa" jackets. It has ploughed £35m into the six-storey store and plans to use the upper floors as the headquarters for its burgeoning European operation.
With most British high street retailers reliant on Chinese factories to produce low cost clothing, Bosideng is swimming against the tide with only 10% of the UK clothing range made in China.
Bosideng UK chief executive Wayne Zhu said it had been studying the European market for some time and predicted other Chinese groups would follow. "I know of other Chinese retailers doing feasibility studies", he said.
Unlike its vast domestic operation, which also sells womenswear and childrenswear, Bosideng's UK offering is upmarket menswear aimed at the customers of brands such as Paul Smith and Hugo Boss. Zhu said the brand wanted to win over Europeans rather than target wealthy Chinese shoppers already familiar with the brand. "We are a Chinese brand, designed in the UK and made for Europe," he said. To get its product right Bosideng worked with designers Nick Holland and Ash Gangotra who recently collaborated with ex-Oasis frontman Liam Gallagher on his label Pretty Green.
"The brand draws on Chinese history and inspiration but also has a UK feel to it," added its retail director Jason Denmark. "We have to make a collection that's right for the European market if we are to succeed.
International retailers have sometimes misfired on entering the UK. It took Uniqlo two attempts to get its ranges and store locations right, while chains such as the Inditex owned Zara had to tweak its sizing after they failed to take account of different body shapes in new markets.
Bosideng's debut in London came as the government courted Chinese entrepreneurs at a conference in the capital – one of 17 summits scheduled over the next fortnight to attract investment and promote British business.
The centrepiece of the event was a catwalk show by fashion label Eve which became the first Chinese men's clothing brand to show at London fashion week. Run by Xia Hua, a former politics professor at the China University of Political Science and Law, the brand intends to invest £10m in a London head office next year.
"We would like to be the Chinese McQueen," said Hua, who added the retailer was in talks with Harrods and Selfridges. "There are a lot of western brands that go to China and achieve business success but not that many Chinese brands that have succeeded in western markets. I would like to see high quality Chinese products on the [British] high street. Not just made in China but designed in China."
guardian.co.uk © Guardian News & Media Limited 2010
Published via the Guardian News Feed plugin for WordPress.