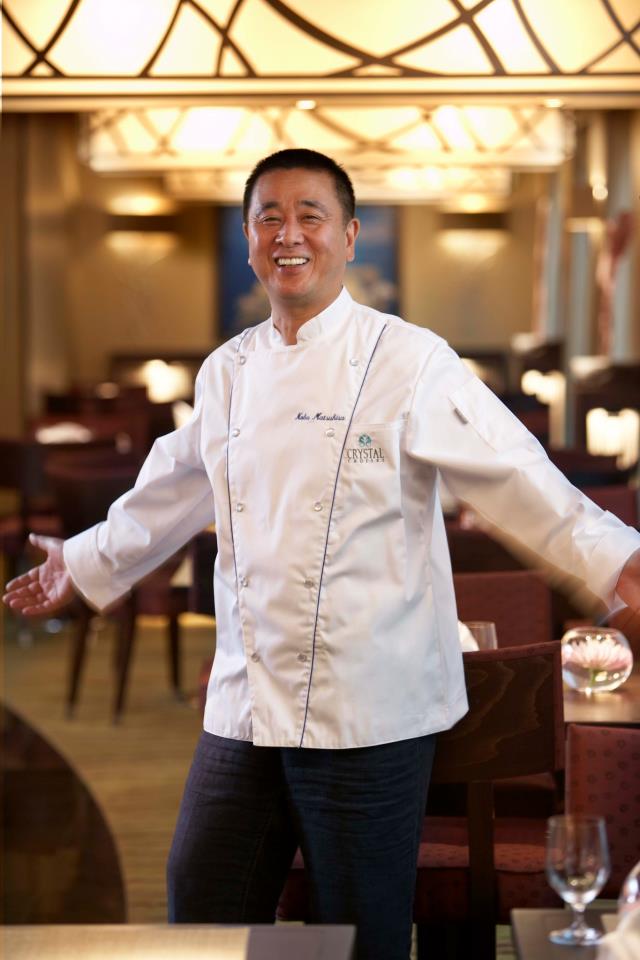 An ongoing trend sees major cruise lines including innovative choices for gourmandizing, certified cheese and wine sommeliers, chef-like cocktails served by certified mixologists and gourmet dining options at every meal.
All-inclusive culinary experiences are a hallmark of Crystal Cruises, a cruise line that invited the ever-charming Japanese celebrity master chef and restaurateur Nobu Matsuhisa to prepare an exclusive onboard dinner for an intimate group of guests.
In the "ultimate" dinner parties at sea, multiple Michelin star-winning Master Chef Nobu Matsuhisa will hosting for the first time ever one of Crystal Cruises' 2013 Ultimate Vintage Room Dinners. Just 12 to 14 guests (per event) have the opportunity to attend one of the exclusive seven-course, ultra-rare wine-pairing feasts, either while sailing a Mediterranean cruise aboard Crystal Serenity (starting May 18). Held in the ships' private Vintage Rooms just once or twice a year, the "dinner tab" to attend is $1,000 per guest.
Nobu Matsuhisa, the mastermind behind a culinary empire, including Crystal's Silk Road and The Sushi Bar, will be creating his first-ever "ultimate" meal for Crystal (July 13, Rome to Istanbul), accompanied by extraordinary rare wine and champagne pairings. Nobu will also hold autograph sessions, cooking classes, and larger omakase dinners throughout the sailing.
"The Ultimate Vintage Room dinners allow us to push the culinary envelope over the top, with each event truly a once-in-a-lifetime affair created just for Crystal guests," says Toni Neumeister , vice president, food and beverage operations. "This year's dinners may be our most exciting ever, with culinary superstars who tend to be as impossible to get as the wines themselves."
On May 18, on the Istanbul-to-Barcelona leg of the trip, a second luxury dinner will also be hosted by award-winning Napa Valley vintners Bo and Heidi Barrett. Between Bo's Chateau Montelena—the winery whose 1976 Judgment of Paris Chardonnay win was depicted in the recent film, Bottle Shock–and Heidi's award-winning "cult" 1992 Screaming Eagle, this Napa couple is largely credited for putting California wines on the map. They will be personally selecting each vintage served for the evening.