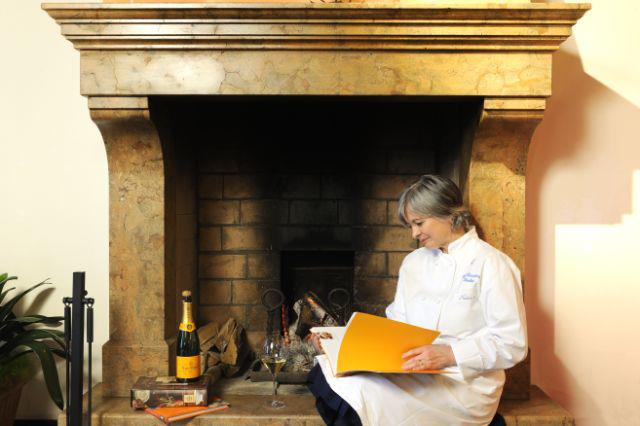 Nadia Santini, the matriarch and head chef at Dal Pescatore in Mantova, Italy, has been named the 2013 Veuve Clicquot World's Best Female Chef, the trophy that celebrates the work of an exceptional female chef whose cooking excites the toughest of critics. Veuve Clicquot World's Best Female Chef is organized annually by Restaurant Magazine's World's 50 Best Restaurants list.
In 1996 Nadia Santini became the first female chef in Italy to earn three Michelin stars, a rating the restaurant has
retained every year since. Dal Pescatore, a restaurant in Canneto sull'Oglio, Italy south of Mantova, remains a family affair. The chefs are Nadia Santini, Giovanni Santini, and Bruna Santini. The children have also followed their parents into the business. Eldest son Giovanni works is at his mother's side in the kitchen and second son Alberto works out front with his father and Giovanni's wife. The restaurant ranked 43rd in the Elite Traveler World's Top Restaurants Guide 2012.
In March 2012, Giovanni Santini was elected "Best emerging Chef" by the Academie Internationale de la Gastronomie, which brings together 27 national  culinary academies representing four continents. In 2011, Ristorante dal Pescatore obtained The Award of Culinary Exellence given by Italian Tourism Minister.
"The fact that Dal Pescatore is the only kitchen Santini has ever worked in makes her ascension to the pinnacle of the restaurant game all the more extraordinary. Despite her background in food science [Nadia Santini studied food chemistry and latterly political science with sociology at the University of Milan], the cooking is not remotely high- tech – those that come expecting spherifications and espumas will be disappointed for Santini remains a stickler for tradition," said "The World's 50 Best Restaurants" organizers.
Inspired by the life and achievements of Madame Clicquot, who nearly 200 years ago, set the standard for women in business, the award was established in 2011. Chef Anne Sophie Pic and chef Elena Arzak won the title in 2011 and 2012, respectively.