The Bvlgari Gems Road.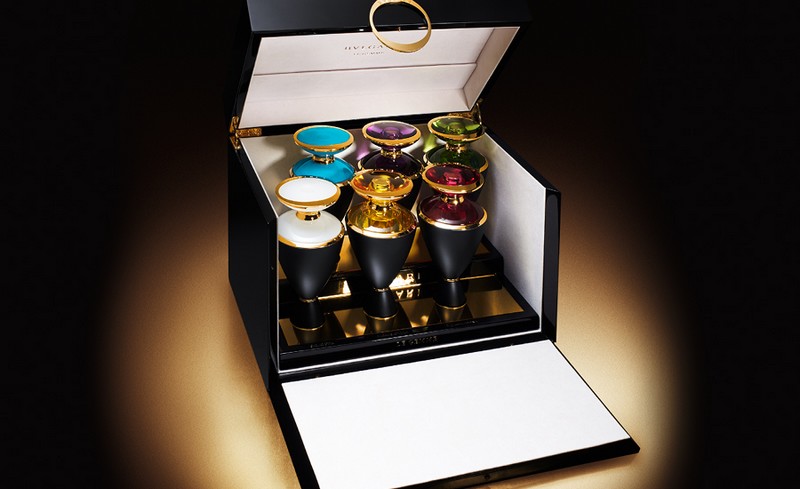 The juxtaposition of precious stones and perfumes is a natural step for house of Bvlgari. To enter the exclusive sphere of Haute Parfumerie, Bulgari conceived "Le Gemme" collection. Can the tradition of Haute Joaillerie inspire a new approach to perfumery. Bulgari says "Si." Le Gemme is nothing else that another translation of luxury maison's history.
Suffused with the most evocative gemstones, the collection of six "eaux de parfum" is "a journey to other worlds and times."
Turquoise, Peridot, Amethyst, Tourmaline, Citrine, and Moonstone, the emblematic stones of the Far East served as inspiration for this perfumed sextet. These precious gems possess powers which are transfered to the wearer.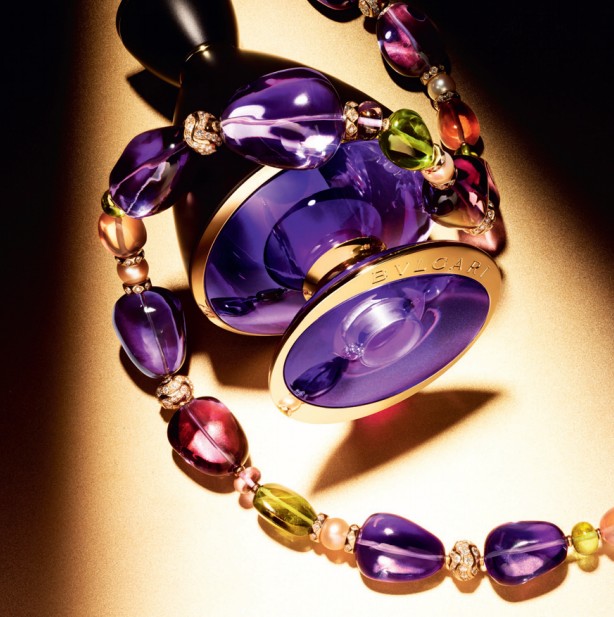 Inspired by the amethyst: ASHLEMAH (Perfume Notes: LAVENDER ESSENCE – IRIS ABSOLUTE – MUSK; ~ £235.00/ EDP, 100ml).
"Achlemah" means "sweet dreams". Amethyst is associated with the divine, with elevation of the spirit, and purity. It is believed that amethysts bring clarity to our dreams.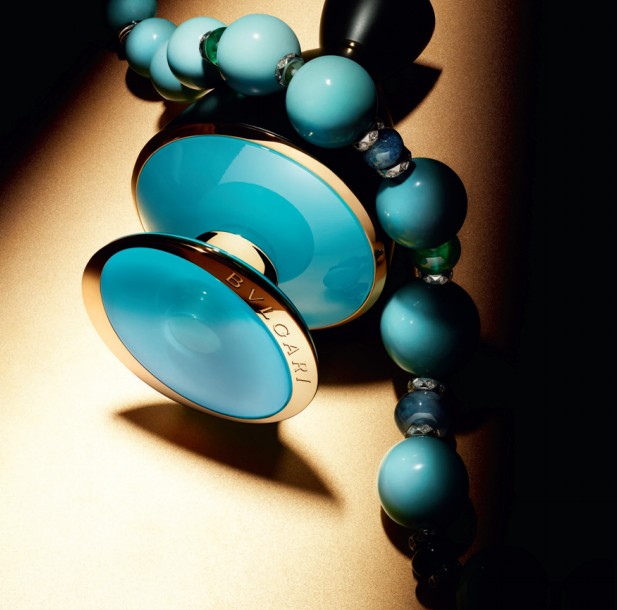 Inspired by tourquoise: NOORAH (Perfume notes: NARGUILE VAPORS – CANDIED DATES – LAOTIAN BENZOIN).
The most beautiful specimens come from the region of Nishapur, an exceedingly ancient city in Central Asia, and one of the crossroads of the mythical Silk Route.
Caravans of Turkish traders brought the turquoise to Europe and that is how the gemstone came to be named.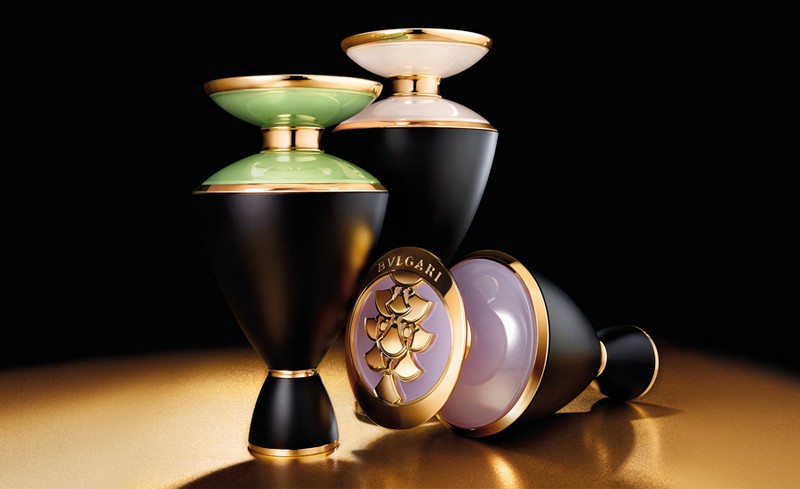 Inspired by the citrine: Maravilla (ITALIAN LEMON TREE – ORANGE FLOWER ABSOLUTE INDONESIAN PATCHOULI ESSENCE).
Citrines are known to distill good vibrations, encourage a positive state of mind and fortify intelligence. Maravilla, meaning "delight", evokes the enchanting energy of the Mediterranean light and its "joie de vivre".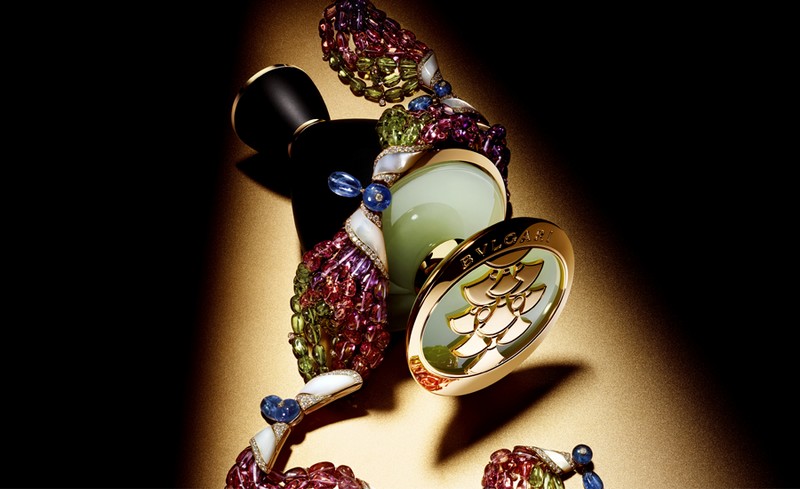 Inspired by the moonstone: CALALUNA (WHITE IRIS – HELIOTROPE – SANDALWOOD)
Possessed of the powers attributed to the moon, such as receptivity, intuition and magnetism, moonstones bring women in harmony with their nature. Calaluna is an evocative name that pays homage to an idyllic bay in Sardinia where the sand,reflecting the water, has a moonlit hue.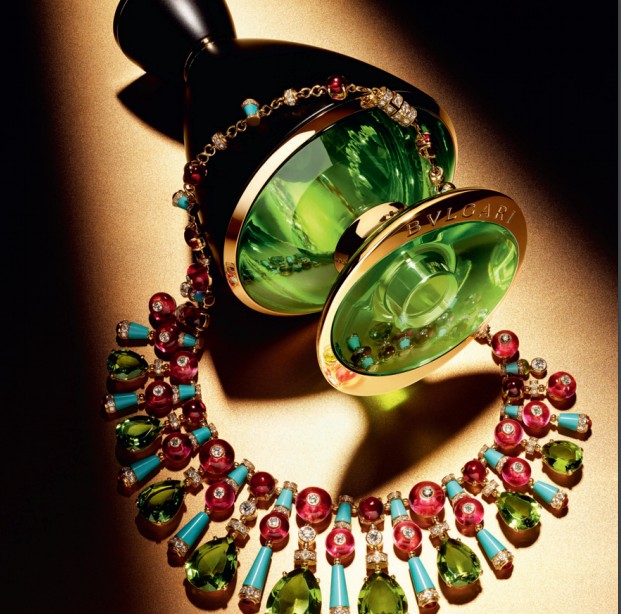 Inspired by the peridot: LILAIA (GALBANUM – MASTIC ABSOLUTE – MUSK)
Peridot's "light-green" color is emblematic of life, prosperity and regeneration;  it is the green of Mother Nature. The name Lilaia evokes a Greek Goddess of Spring who nurtures flowering, growth and rebirth.

Inspired by the pink tourmaline: AMARENA (AMARENA CHERRY – ROSE CENTIFOLIA – INDIAN TUBEROSE)
A Symbol of love and delight, the pink tourmaline invites desire and sensuality. It brings us South of the Equator to the colors, music, scents and lushness of  Brazil. Amarena is an evocative name meaning "Morello cherry" in Italian.