A spectacular new stunt by British yachtsman Alex Thomson.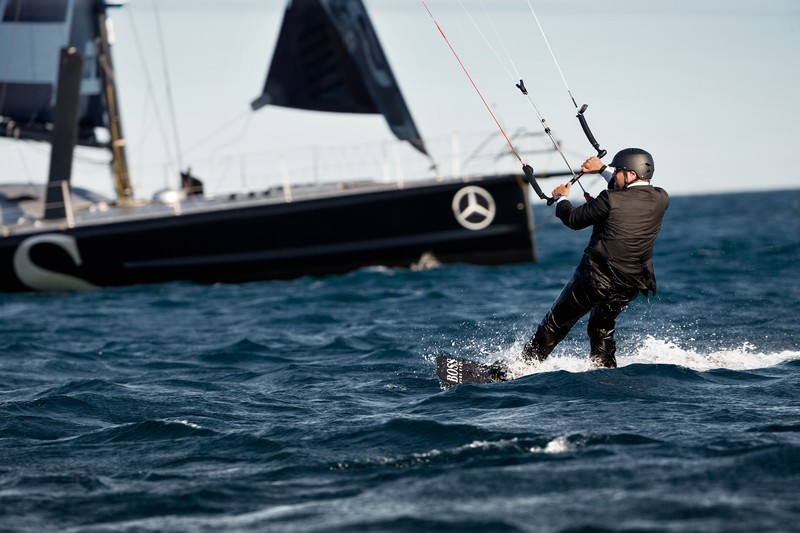 Passion and courage have no boundaries. With his latest stunt, the British yachtsman Alex Thomson has once again underlined his reputation as a daredevil. During his breathtaking Skywalk he catapulted himself and his kiteboard to a dizzying height of over 85 metres, powered only by the wind and his racing yacht IMOCA Open 60 HUGO BOSS. Having reached this height, he released the long rope that connected him to the boat and landed upright on the water. And to top it all off, he wore a water-repellent suit by BOSS during his 'walk across the sky'. The Skywalk completes Alex Thomson's trilogy of spectacular stunts that began in 2012 with the Keelwalk and continued in 2014 with the Mastwalk.
Alex Thomson is the youngest skipper to have won a round the world yacht race. When he secured victory in the Clipper Round the World Race in 1998/99 he set a record that he still holds today. In 2003, Thomson broke the 24 hour distance record on his spectacular debut in the world of solo racing. He was runner-up at the Barcelona World Race in 2008 and set his second distance world record in a monohull. Since then, his focus has been solely on the Vendée Globe, a race where competitors sail 26,000 nautical miles (46,300km) nonstop around the world. In 2013 he took third place in this race.
Thomson was supported in the planning and preparations for the Skywalk by a team of 35 including professional kite surfer Susie Mai and kite boarding instructor Ray Kasper. The Skywalk took place off the coast of the Algarve in Portugal. Thomson used a special ten metre kite that lifted him to a height of over 85 metres. That is twice as high as the mast on his yacht and higher than the Tower Bridge in London. At the maximum height Thomson released the rope and landed back on the water after a short flight of 60 to 90 seconds, reaching an ascent speed in excess of 25 knots.
Mercedes-Benz has been supporting the Alex Thomson Racing sailing team with its technological expertise since 2015. The development of the current racing yacht IMOCA Open 60 HUGO BOSS made use of the latest carbon fibre technology from Formula 1, reducing the weight of the boat by five percent, and also features an innovative paint system. The black paint developed by BASF in cooperation with Mercedes-Benz belongs to the 'XCool' category. It reflects infrared radiation and prevents overheating inside the yacht, while the fibre bonds of the hull are also exposed to significantly lower temperatures. Alex Thomson is aiming for a place on the podium at the next Vendée Globe. The world's hardest solo sailing race starts on 6 November, 2016.