The third edition of World Culinary Tour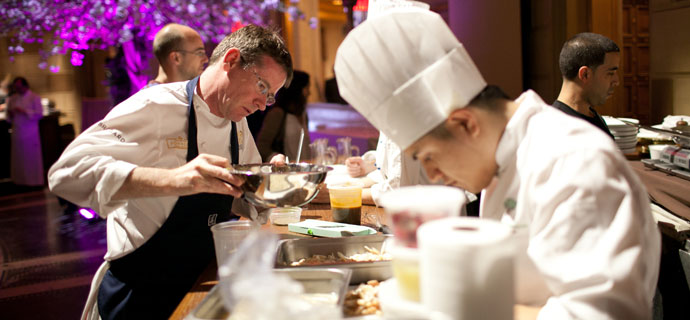 Have you ever tasted cock crab, cockles, samphire? Following success in Versailles and New York, Relais & Chateaux's Diner des Grands Chefs 2013 descends upon London, taking place at Old Billingsgate, on April 22nd. Britain's delicious fresh seafood and produce will inspire the menus for the 3rd annual Diner des Grands Chefs.
45 Grands Chefs from all over the world will join forces for a once-in-a-lifetime exquisite gastronomic journey inspired by the best British produce. In teams of 3, each chef will create a signature course resulting in 15 different and never seen before menus, prepared "live" for 600 guests in the Old Billingsgate.
The evening's theme will be "The World's Kitchen by the Thames" and fittingly it will take place at Old Billingsgate Market, a former world-famous fish market. Paying tribute to the delicious and diverse artisanal food brought together in the melting pot that is London, the third instalment of this exclusive culinary experience will see each guestsavouring custom-made menus created 'live' by three Grands Chefs.
Ingredients will be sourced through the British Grands Chefs most trusted suppliers, ensuring that all produce is traceable to its source and of the highest quality. A dazzling variety of seafood will be on offer: sumptuous lobster from Cornwall and Jersey, cock crab from Devonshire, divercaught Scottish scallops, Cornish oysters and Welsh cockles…
The 5 course dinner will include DEVONSHIRE BROWN COCK CRAB or CORNISH LOBSTER as appetizer, followed by GIGHA HALIBUT or SCOTTISH SCALLOPS (DIVER CAUGHT), and ABERDEEN ANGUS BEEF or RHUG ESTATE DENBIGHSHIRE CHICKEN.
"Relais & Chateaux is fiercely committed to celebrating the individuality of local cuisine and culture. Our Grands Chefs, 163 of the world's most accomplished culinary luminaries, embody that commitment as they develop and champion their unique specialities," said Jaume Tapies, Chairman of the Board of Relais & Chateaux.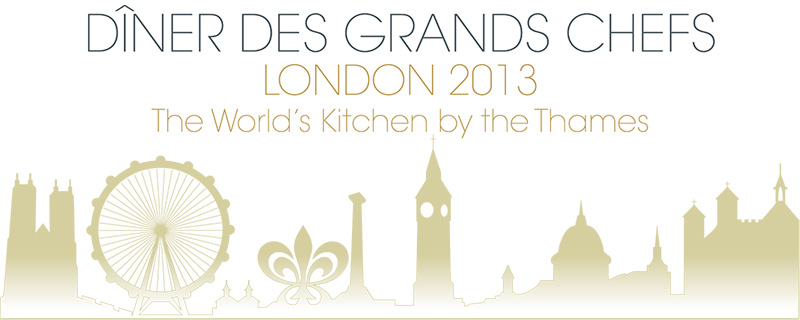 The UK chef contingent will be led by Raymond Blanc and Gary Jones (Le Manoir aux Quat' Saisons),
Andrew Fairlie (Restaurant Andrew Fairlie) and Claude Bosi (Hibiscus), who will set the tempo for the tribe of Grands Chefs to surprise and enchant with their unexpected riffs on "Food Britannia". Some of today's leading female chefs, including Annie Feolde (Enoteca Pinchiorri, Italy), Lanshu Chen (Le Mout Restaurant,Taiwan), Margot Janse (Le Quartier Francais, South Africa) and Margo Reuten (Restaurant Da Vinci, the Netherlands) will also lend their talents and give their unique personal stamp to the dinner.
Last year Downing Street celebrated the importance of British cuisine with the launch of its "Food is GREAT" campaign to promote British gastronomy abroad. In addition, the 2012 London Olympics presented an opportunity to showcase the United Kingdom's commitment to sustainably sourced food. Since then a new vision has emerged that London should become the world's first Sustainable Fish City.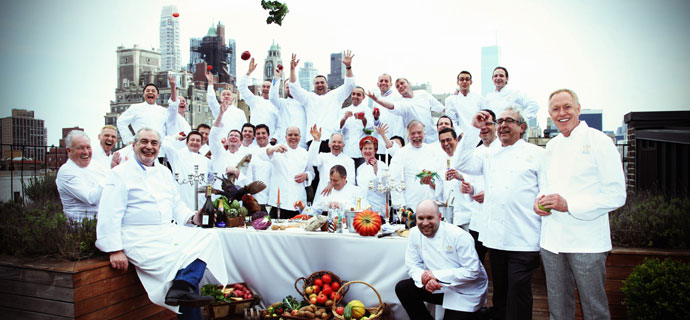 A Culinary World Tour like no other, the Diner des Grands Chefs was born in 2011 to celebrate provenance, seasonality, regional cuisine and native talent – aspects of fine dining that have become increasingly important to epicureans around the globe.
The idea of a Diner des Grand Chefs was born in 2011, and the inaugural Diner took place at the Chateau de Versailles, with 60 Grands Chefs from around the world. It was a magnificent meal attended by more than 600 guests looked after by 72 Maitres d'Hotel and 22 sommeliers. The event celebrated the inclusion of the Gastronomic Meal of the French in UNESCO's List of Intangible Cultural Heritage of Humanity.
In 2012 the Diner travelled to New York. It took place at the iconic Gotham Hall and celebrated springtime in New York and American regional produce. 45 Grands Chefs of international renown presided over the dinner attended by 450 guests.