What started over 95 years with a passion for traditional boat-building, Switzerland-based Boesch Motorboats has now become the epitome of high performance classic mahogany boats.
Maneuvering this high-end boat is a sheer pleasure, and so is taking it out for an extended spin. The spacious Boesch 710 Ascona de Luxe (Length (over all) 7.50 m; Beam (hull) 2.36 m) offers pure sport and luxurious summer feeling, all together in one boat. It's the largest single-engine Boesch runabout and its cockpit comfortably accommodates up to seven passengers. The classically sleek hull conceals a brawny yet smooth V-8 engine that interacts with the famous Boesch Horizon-Gliding feature to make the B710 Ascona de Luxe a powerful ski boat with an exhilarating wake and unexcelled handling characteristics.
Boesch 710 Ascona de Luxe is an extremely sportive boat with an ideal wake for water skiing. Due to its size, its well-designed accessories, the flexible cockpit and the integrated retractable sunshade, the Boesch 710 Ascona De Luxe offers the perfect summer atmosphere. There is sufficient stowage for your water skis and your bathing suit under the sun lounge in the cockpit. The adjustable pilot seat provides a better visibility to the pilot. The V-8 engine, bursting with power but running smoothly, guarantees the unique Horizon Gliding experience.

Sunshade as Bimini-Top
The integrated, feather-light but extremely solid sunshade is very easy to unfold and offers sufficient mobility with its 1.75 m of headroom. The sturdy Bimini-Top is capable to deal with faster and more sportive cruising. Furthermore, an extension covering the sunlounge as well can be put up in no time.

Boesch 710 Ascona De Luxe Electric Power
Even with the electric-power engine, the Boesch 710 Ascona De Luxe has sufficient power to tow a water skier. Thanks to the unique Boesch Horizon Gliding technique, the boat achieves the optimal gliding position even with the electric power engine at low speeds and with less power output. The boats' maximum speed is 70 km/h (38 kn), while electric power performance at 80 kW is 48 km/h (26 kn) and 53 km/h (28 kn) is the maximum speed using 100 kW.
Zürich-based Boesch Motorboats will be present at boot düsseldorf boat show 2018, the world's largest boat show, with a range of new boats including B620 Bimini de Luxe, B625, B710, B750 Portofino de Luxe, and B970 St. Tropez de Luxe.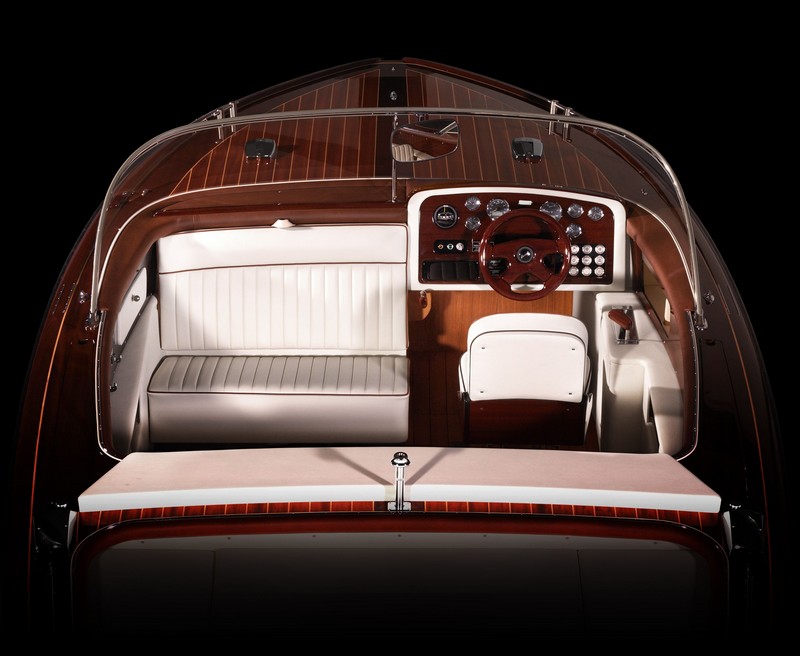 images: Boesch Motorboats