As an open-top dayboat, the 39ft Riva Rivamare is sheer perfection.
Riva Rivamare announced as the most beautiful powerboat at the 2018 London Boat Show.
2018 London Boat Show sees the UK debut of Riva's latest and most glamourous addition to their dayboat/weekender line-up, the 39ft Rivamare. The best part of owning one of these wonderful water machines is undoubtedly getting behind the wheel and opening the throttles.
This is not a boat for the shy and retiring. The Rivamare will demand and attract attention, not to mention admiration and even adoration. When it comes into view, onlookers will inevitably stand and stare, such is its presence and poise. Fashionable trends may come and go, but the timeless elegance of the Rivamare will turn heads for years to come.
"Every inch the modern day re-imagining of the legendary mahogany Rivas of 50 years ago, the Rivamare is a glorious combination of exquisite design, meticulous quality, flawless finish and performance," say Riva's designers.
The Riva Rivamare's sublimely elegant lines, voluptuous sweeping stern and gleaming wooden deck are all classic Riva hallmarks. Her cockpit and deck areas are not just beautifully designed, they are also brilliantly practical and superbly comfortable. The cockpit is where people will spend most of their time, and they'll be happy to find it fitted out like a luxury limousine, but with the added attractions of sun loungers and steps down to the sea. The main centre section of the transom opens out to form a bathing platform, revealing a garage with space inside for watersports gear, skis, and water toys.
Rivamare is trimmed in hand-stitched leather, with gleaming woodwork and polished steel. It makes the perfect day cabin, but also provides genuine overnight accommodation when required. The v-berth, which converts to a double, also serves as a seating and dining area. And there's a fully fitted bathroom with shower and wc, plus a galley.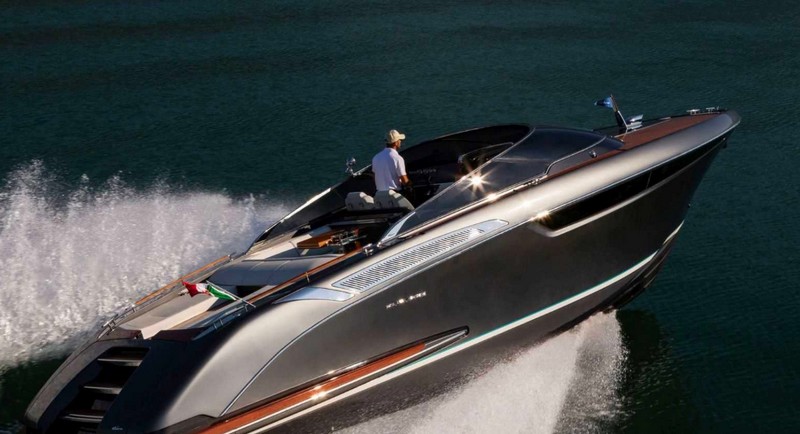 The Rivamare handles like a dream
The helm station has the sort of look you might expect if a luxury fashion brand designed a console for a racing powerboat – "you just know that you are about to experience is going to be something very special," says Riva. Nestling unobtrusively below the sunbeds are twin 400hp Volvo engines with IPS drives, ample power to accelerate the Rivamare smoothly and gracefully onto the plane, and on to a top speed of 40 knots (46mph/74kph).