Riva at the Venice Film Festival 2017 – La Biennale di Venezia:
Riva's Lounge provides a chance to fully immerse in the Venice Film Festival experience in one of the world's most exclusive venues.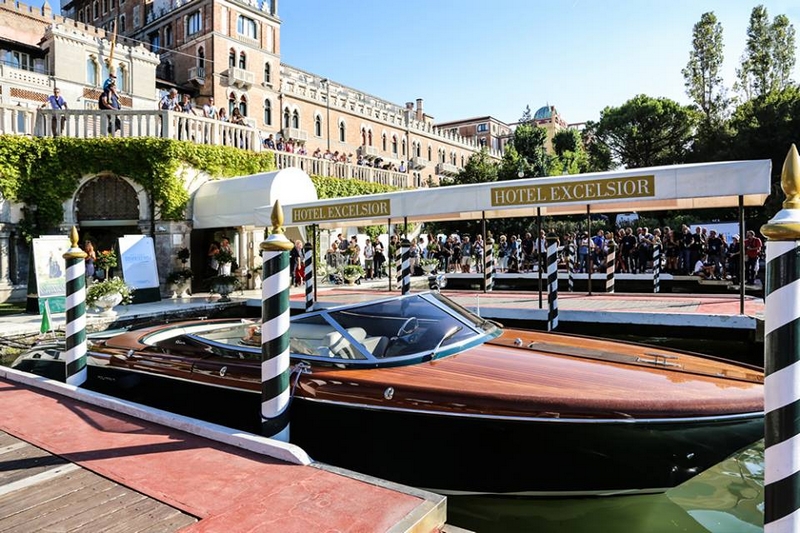 Riva Yachts arrived in Venice playing a leading role on the international jet-setting scene. The Italian yachting legend is present at the 74. Venice International Film Festival with a temporary Lounge at the Hotel Excelsior, in the space dedicated to the Italian National Foundation for the Performing Arts (FEdS), and a courtesy boat service for the use of guests and VIPs.
Riva was the favorite boat of directors and actors in several successful films, and courtesy boat for the most famous and glamorous film festival.
The world's most famous shipyard is present at the 74th Venice International Film Festival (30th August to 9th September), as a partner of Fondazione Ente dello Spettacolo (FEdS), the Italian National Foundation for the Performing Arts.
VIPs, guests, directors and actors whose films are being shown at the Festival are able to relax, pass the time and give interviews in this exceptional location, a part of which will be furnished entirely with exclusive décor from the Riva Brand Experience. The design of the chairs and tables, the materials used and every small detail demonstrate the artisan quality that is a hallmark of the Riva brand.
The refined line of accessories from the Riva Boutique collection will also be on display in the Lounge, providing the final touches to its decoration. A selection of these unique and one-of-a-kind items will be provided as an exclusive gift to Riva Lounge guests.
This is Riva's second Lounge in Venice. Indeed, ever since 2015, the historic Gritti Palace has already been hosting this unique space on the terrace of the Bar Longhi, overlooking the Grand Canal. The Lounge, an ideal open-air extension of the famous meeting spot for Hotel guests, provides a chance for visitors to fully immerse themselves in the Riva experience in one of the world's most exclusive venues.
Fans can discover Riva Yachts' unique charm and design at the 2017 Cannes Yachting Festival.