A true master piece. The made to order, classic looking Zeelander Z55 in Royal knights blue. New Z55 is a quintessence of Zeelander Yachts' "360 degrees of luxury" approach.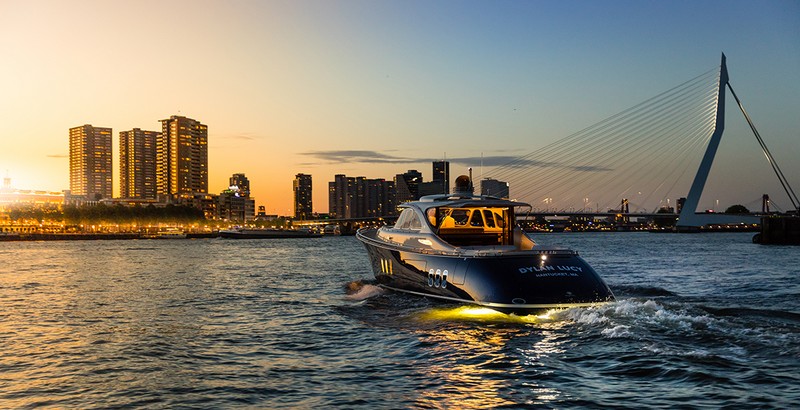 The brand new sport cruiser Z55 by Dutch shipyard Zeelander Yachts is making its official European debut at Cannes Yachting Festival 2017 (September 12-17, Cannes, France).
Featuring timeless, recognizable, elegant design, the new sport cruiser by Zeelander Yachts prsents a deep-V hull GRP core infused vinylester glass fibre and custom made interiors by naval architects of the Mulder Design studio.
Zeelander is famous for creating the maximum owners comfort in their yachts, one of which is the 360° panoramic vision from the wheel house, which is unique in this class. The narrow window frames, the double curved glass, 10 large screens and a full opening aft glass wall gives an exceptional view.
"Zeelander gives an owner the experience of being on the water and in touch with all the elements without being disturbed by engine or generator noise. No other boat builder is capable of bringing the sound level down to the minimum as Zeelander has done," says the Dutch shipyard.
Have a seat, take in the view.
"The Z55 has three side windows (compared to two on the Z44), four headlights (two on the Z44) and three bedrooms (one/two on the Z44). These accommodations comprise a master suite with a vanity table, a VIP suite and a guest cabin with bunk beds, which can either be used for guests or for crew. This is one of many choices that will unfold as you customise your Z55," says Zeelander Magazine.
The well-engineered boats with combined features like joystick steering, dynamic positioning, automatic trim, cruise control, stabilizer and on-demand information makes boating as easy as driving your car.
As a standard all Zeelander Z55 yachts are delivered with mahogany wood or bleached oak on your individual request with numerous variations in upholstery.
Using the Zeelander luxury selection as the starting point, you can bring in the stylist of your choice to choose the 'skin' of the boat – the veneer, the leather, special soft goods – on a tender basis."Individual customization to the smallest detail is possible, allowing you to make your Zeelander a unique collector's item," added Zeelander Yachts.