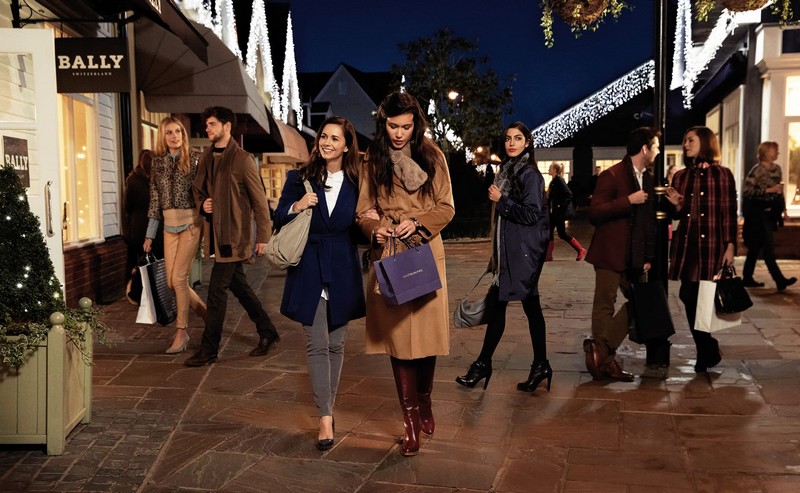 ---
This article titled "Bicester Village: top UK tourist attraction and shopping Shangri-la" was written by Eva Wiseman, for The Observer on Sunday 13th December 2015 14.00 UTC
I've long dreamed of Bicester Village. I pictured it as some sort of heaven. It's the word "village", I think, the suggestion of rural bliss, green and sweet, filtered birdsong and half-price handbags. The promise of a long walk through fields of discounts, and a nice sit down at the end, in the car.
More than six million people visit Bicester Village every year. They come by car, or coach, 10,000 of which arrived last year alone, they come by train – in October they unveiled a station, the first new railway line to link London to another British city for 100 years. Some arrive by helicopter, landing with a drum roll in an adjoining field. They come for the Alexander McQueen, the Céline, the Vivienne Westwood, and they stay for the 60%-offs. But it's not just day-trippers who have been visiting since its opening in 1995. Increasingly it's holidaymakers, too, making a weekend of it.
Along with Buckingham Palace, Bicester Village is one of the UK tourist attractions most visited by Chinese visitors. Eight in 10 Chinese visitors to London make this pilgrimage during their visit to the UK. To welcome them, Marylebone train station has installed signs in Mandarin.
Because, to luxury shoppers, people for whom a £600 bag is a bargain, this quaint retail park half way between Birmingham and London is a shopping Shangri-la. And today, in a time of austerity and Lidl champagne, the only thing better than wearing a designer label is the opportunity to boast that you got it cheap.
I arrive for a last-minute Christmas shopping break with all the weariness of winter upon me. What kind of fool agrees to go all the way to almost-Oxford for the promise of a marginally cheaper gilet? And in this weather, too, with the wind on the M40 threatening my thinly worn good nature. But then I remember – this isn't just a trip to the shops, this is a holiday. "Buck up your ideas, Eva," I say inside my head. "Buy into the capitalist dream, for once, Jesus."
Bicester Village's best local hotel is the Old Parsonage in Oxford, a 17th-century building that surely offers all the ye olde charm that tourists will crave after a dash round Burberry. Open fires. High tea. The walls are a dark purple-grey and hung densely with art – Wyndham Lewis, Gary Hume. The smell of the place is of pine and smoke, and it's delicious.
It is also across the road from the Pitt Rivers Museum with its eccentric collections of musical instruments, masks, textiles, jewellery, weapons and tools – the perfect antidote when your soul is in need of a little cultural nourishment.
But this is a shopping holiday and the hotel has a deal where they'll drive you to and from the mall in a posh car, and give you a 10% discount card, too. It's that kind of high and low-ness that is unique to a place like Bicester – the extreme luxury then the conspicuous discounts, which create a sort of dizzying effect that makes money not quite real. Hence me standing in the Dolce & Gabbana outlet seriously considering borrowing £500 for a matador bolero.
I break for lunch. In keeping with the luxury there is a Villandry, Hix's Fish Dog van and the newest opening, Soho House's Farmshop. There are no deep discounts here (the sandwiches, though bloody massive, are £14), but there are cocktails and there are comfortable seats and there is time to think. So I did.
What do we want from a holiday? Some time away from a desk, away from real life? All around me were families laughing together, selfie-sticking their way through the queues with a kind of raw glee. The shops offer Bond Street-style service, with the suited security guards welcoming each visitor individually, and the toilets are the kind that have hand cream by the sinks. Every detail is there to make you feel better about spending £290 on a pair of sandals.
Then, what do we want from luxury fashion? Superior quality, something unique, or simply, a label? Most customers believe they are finding gems that were a few seasons old, or had been returned, or overstocked. "In reality," though, according to recent piece on Racked, "much of the merchandise at the outlets of major department stores is made or bought specifically for those outlets, with designers and vendors creating familiar-looking pieces at a lower cost that often indicates inferior quality." A spokesperson for Bicester Village said the majority of merchandise there was "surplus stock from full-price designer brands". And then added that "in some instances there is some additional product made for [Bicester], but this is all made from previous seasons' fabrics from the fashion brands and made to the standard that the fashion brands approve."
I wonder, though – does it matter if the coat you're buying for £1,000 has slightly different lining to the £3,000 one you saw in Vogue? Not, it seemed, to the thousands romping with their Prada bags, their Dior, Balenciaga, their fashion lust spilling into Pret, where I was quietly talking myself down from a Céline leather tote.
For me, as a shopper, Bicester Village was neither one thing nor another. There was none of the scrum and thrill of a sample sale (where I spent £90 on Alexander McQueen boots that I've worn for three years now) or the gallery-like awe of Mount Street or Bond Street, where I will forever feel like the shopping scene in Pretty Woman.
But as a holiday, I loved it. I returned to the car vaguely elated. The sun had come out, with that white winter light, and despite having bought nothing, I felt that the journey through the fashion possibilities had been exciting. Back at the hotel, as tired as if I'd been trawling through an ancient ruin or a cathedral, I got it. The appeal of Bicester Village as a destination, rather than somewhere you pop into angrily on the way home. A holiday from reality.
Essentials
For all information on Bicester Village, go to bicestervillage.com. For details of the Pitt Rivers Museum, see prm.ox.ac.uk. Entry is free. A double room at the Old Parsonage Hotel costs £195 (oldparsonage-hotel.co.uk)
guardian.co.uk © Guardian News & Media Limited 2010
Published via the Guardian News Feed plugin for WordPress.