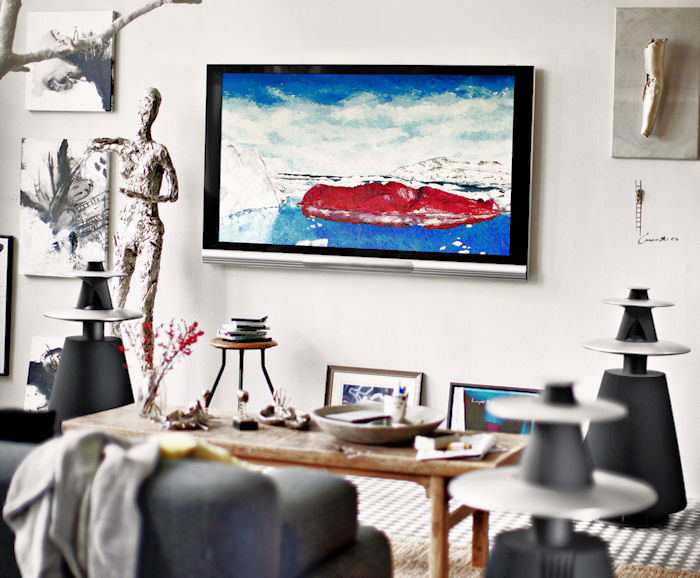 Sit back, let the electronic curtain slide away, and immerse yourself in a world of cinematic magic. Bang & Olufsen launched a new version of BeoVision 12-65 New Generation, an update of B&O high-end Plasma TV.
The update features Smart TV, a new surround sound module, TrueImageTM technology and Bang & Olufsen's latest innovative video engine that takes plasma TVs to a whole new level, in sound, picture and customization. With exceptional audio, advanced plasma screen technology and 3D capabilities, Bang & Olufsen's ultra-slim 65-inch Smart TV is the ultimate expression of cinematic craftsmanship. Plasma's video engine provides the finest, full HD experience of any plasma screen on the market.
With the launch of the BeoVision 12-65 New Generation, Bang & Olufsen also introduced Topaz Grey as a new colour for the TV's centre speaker and BeoLab 12 series, allowing customers to create a completely coherent Topaz Grey look throughout the living room. The colour tone changes depending on how the light falls and from which angle you are looking at it, adding life and excitement to the setup without disturbing the viewing experience.
To combat ageing effects in the plasma screen, colours are measured and adjusted automatically every 100 hours to ensure constant picture quality that's rich in colour and fluid movement.
The video engine also adapts continuously to your content, adding depth and warmer colours to movies, or minimizing the screen's input-to-output delay for ultra-fast response when you're gaming
Designed by David Lewis Designers, BeoVision 12-65 offers a completely new design expression, which has a very thin and light appearance that truly innovates the heavier plasma concepts seen so far. Besides using an ultra slim NeoPDP panel with the latest and greatest in plasma technology, two aluminium profiles bent inward in a V -shape – one in black and one in natural high-gloss polished aluminium – create an optical illusion giving the TV a thin, light and extremely elegant visual expression.
The actual frame is a very thin (almost foil-like) black aluminium sheet of only a few millimetres thickness that gives an impression of one uninterrupted glass surface with no visible joints.