Once a piano showroom designed by Sir John Burnett & Pathers, Greybrook House's duplex penthouse was recently awarded 'winner of residential design over £1M' by the SBID International Design Awards 2017, following its recent refurbishment by property enhancement company Fenton Whelan. The art deco, Grade Two listed building in the heart of Mayfair, London, showcases the best of contemporary luxury design and modern living, whilst paying homage to the property's design history.
Property in Mayfair continues to be highly desirable, with this boutique residential development making a welcomed addition to the market. Leading property experts in the Mayfair area and agents for this sale, Wetherell, commented, 'It just shows that even when the property market in other areas may seem unpredictable, you can always be assured of world-class design and opportunities in Mayfair.' In the case of this property, this is thanks to the meticulous attention to detail applied by Fenton Whelan.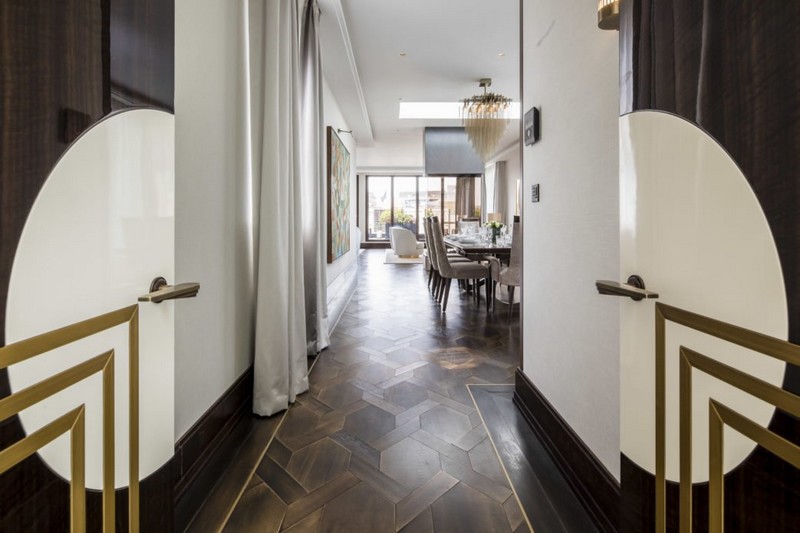 Several gestures are made to the property's art-deco origins, whilst taking into account property buyer's desire for sleek and contemporary design. This fusion is achieved most strikingly in the entertainment space, where bronze Bulthaup cabinetry is fit with luxe Gaggenau appliances and backlit onyx provides the perfect backdrop for a chic cocktail bar. Acting as the focal point of the impressive kitchen is a central island made of Taj Mahal marble. White upholstered bar stools with gold hardware complete the room, which would be as fitting in a 1930's cocktail bar as they are in a twenty-first-century luxury Mayfair penthouse.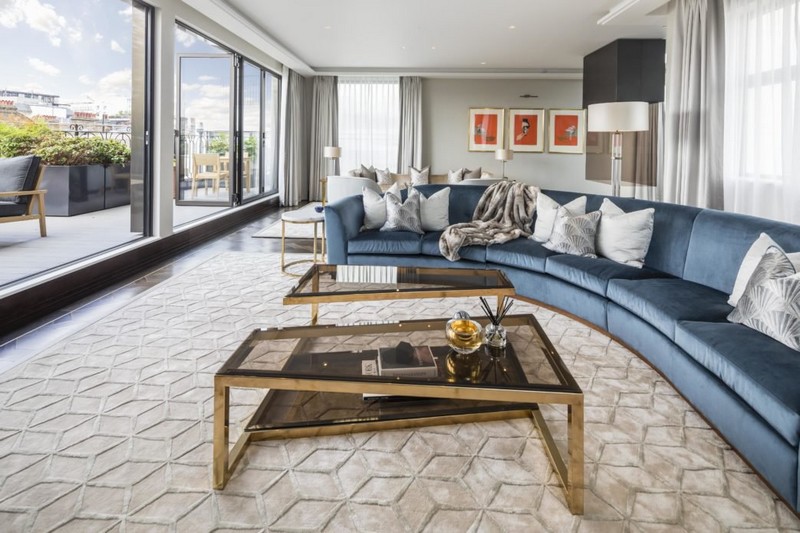 Connected to the kitchen, a plush vert de terre suede banqueting area can be found, further encouraging this space to function as an area for hosting and entertaining. A white marble staircase leads from the entertainment area to a spacious roof terrace with impressive views of the London's iconic skyline.
Whilst the property is certainly designed with an ability to host in mind, it functions equally spectacularly as a space for day-to-day living. Juxtaposed with the white marble kitchen is a cool green upholstered breakfast room, complete with a combination of wood and gold furniture. The living space is comprised of comfortable bespoke furniture, framed perfectly by steel framed glass windows leading onto a fully furnished terrace. This allows a feeling of indoor-outdoor living not often attainable in such a central location.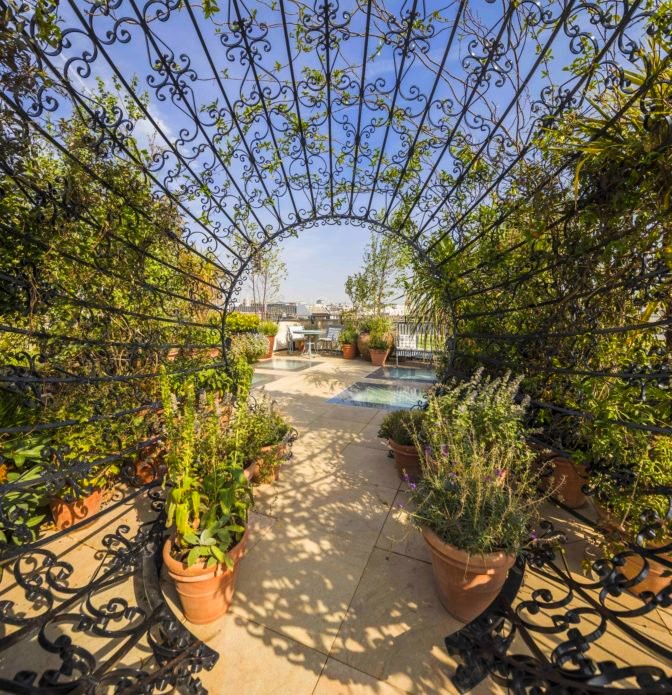 Situated on the lower floor and separated completely from the rest of the property, the master bedroom functions as a sanctuary designed with relaxation in mind. The lacquered finish wardrobes and Alcantara upholstered headboard hint, once again, at the properties art-deco origins; decadent and striking yet unmistakably contemporary. The master en-suite is the embodiment of luxury and sophistication, its white marble floor is enhanced by black and gold geometric shapes, which complements the focal point of the room, a black marble soaker bath. The walls are mirrored, which not only enhances the luxurious feel of the space but also makes it appear both bigger and lighter.