Wangfujing Apple Store
Apple's biggest Asian store in Beijing attracts hordes of shoppers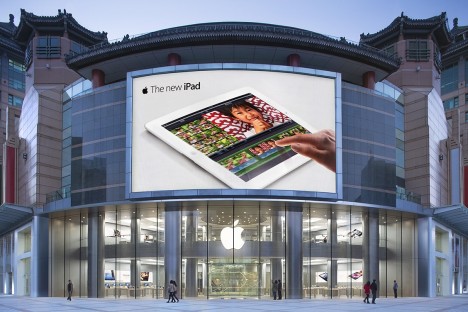 The growing importance of China to the Apple tech giant is expressed through the biggest Asian store opened in on the busiest commercial street in Beijing on October 20. After the United States, China is now the second-biggest market for Apple and the popularity of the brand in China spawned a black market in the smartphones. Apple's sixth official outlet in mainland China covers an area of 2,300 square metres (24,750 square feet) and atracted hordes of shoppers excited by the new gadgets of the company.
The three-story Wangfujing Apple Store with 300 of Mac Specialists, Mac Geniuses and Creatives is the largest Apple location in Asia and China. The new address features two 360-degree Genius Bars, a gigantic curved glass display, iconic wood tables, and a three-story glass staircase, being the 3rd Apple's store to have such an installation.
In the first half of the current fiscal year to March, Apple recorded US$12.4 billion. Apple is set to eclipse the US$13.3 billion in Chinese sales in the prior 12-month period.