Nodding to the ancient traditions of Cornwall, the new season at Alexander McQueen draws inspiration from pagan landscapes, creative communities and the spirituality of the Cloutie Tree. These trees are places of pilgrimage, where travellers tie colourful ribbons to represent their wishes and dreams.
Inspired by the Cornish Cloutie tree, the iconic Four Ring Clutch is threaded with ribbons of leather fringing in scarlet, ivory, woad blue and fuchsia. The new Alexander McQueen bag is worn with a hand-forged metal cuff and Masonic padlock leather bracelet with Medieval engravings.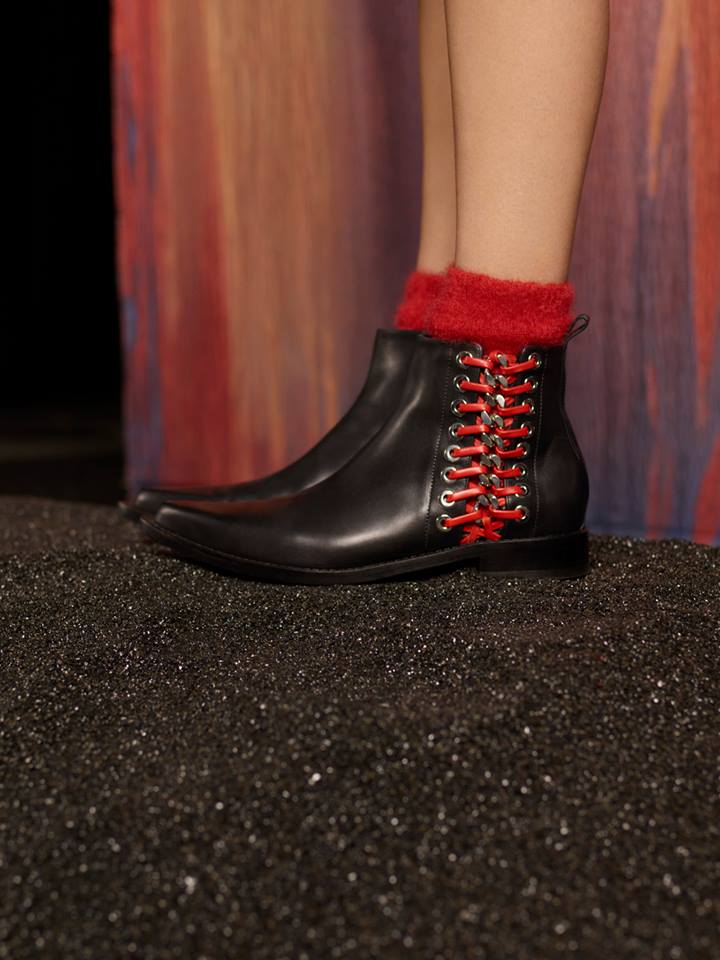 Braided chain ankle boots with leather lacing and hand-applied eyelets are worn with red mohair socks. Inspired by medieval armour, the Pre AW17 leather jacket was lined with shearling.
Heroines of Arthurian legends play inspiration this season as garments are constructed with a serene, monastic line. A softand narrow silhouette with a straight shoulder is evocative of the softest armour, shaped by pleating and lacing along the contour of the body. Modern Pre- Raphaelite inspired shirt-dresses and blouses are made from a crisp cotton poplin dove jacquard with gathered necklines and voluminous, soft sculpted sleeves.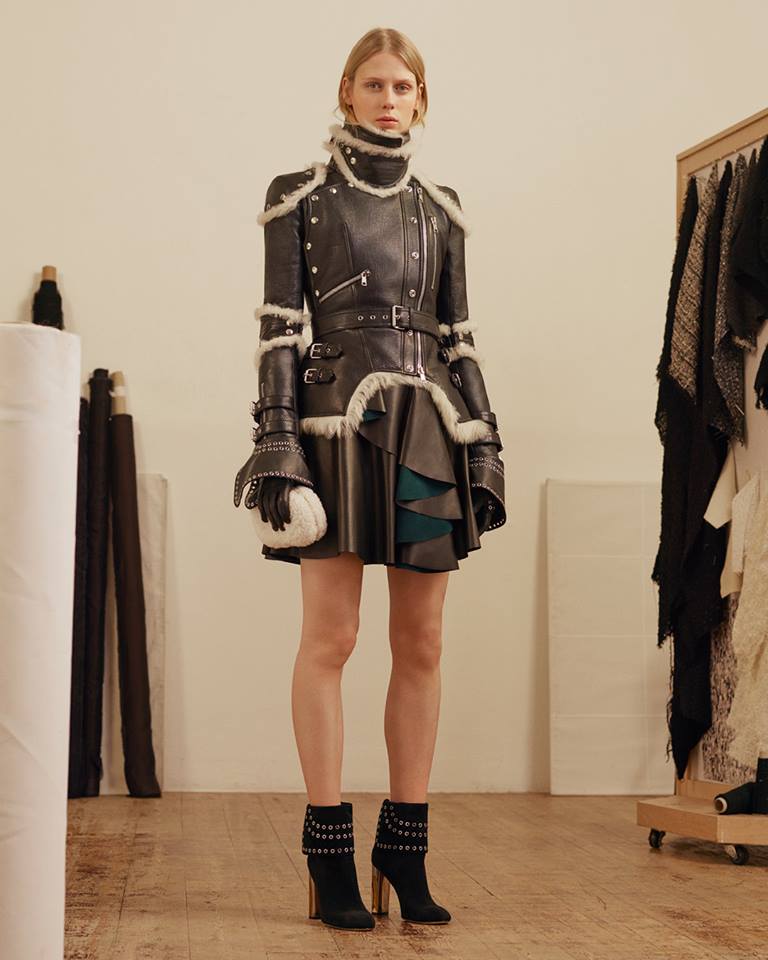 The Pre Autumn/Winter 2017 collection draws inspiration from the sculptural forms of British artists such as Barbara Hepworth. Signature knit dresses are pierced with curves and panels of sheer silk, juxtaposed with chenille and tweed. Birdseye suits are cut asymmetrically with a spherical drape on one side.
Alexander McQueen's Autumn/Winter 2017 campaign is set in the emotive and extreme landscape of Iceland. Drawing parallels with the mystical landscape of Cornwall, the inspiration behind the collection, Iceland provides a duality between the rugged and the romantic.
Working with Jamie Hawkesworth for a consecutive season, is photographed in the eternal light of the Icelandic landscape to create two contradictory sets of pictures. Juxtaposing the internal with the external, warm and vivid painterly interior portraits are set against a severe, unrecognisable landscape.