The wild and magical coastal landscape of the Shetland Islands was the inspiration for the Spring/Summer 2017 collection for British luxury fashion house founded by designer Alexander McQueen in 1992.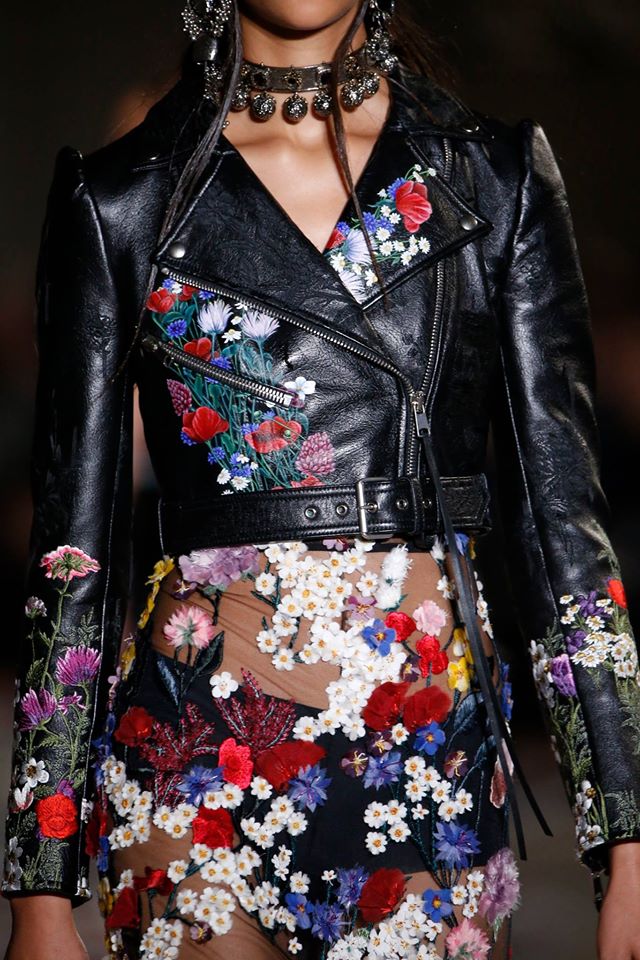 Alexander McQueen collections each featured a title revolving around the specific theme for each collection and show. The tradition ended for Fall 2010 with McQueen's death, and subsequent collections were launched without titles.
Alexander McQueen Spring/Summer 2017 collection celebrates the natural beauty of the Shetland Islands, inspired by their wild coastal landscapes. Romantic dresses are crafted using artisanal techniques, depicting crashing waves, island scenes and renditions of Shetland flora and fauna.
The Shetland Islands is a subarctic archipelago that lies northeast of the island of Great Britain and forms part of Scotland. Due to the islands' latitude, on clear winter nights the "northern lights" can sometimes be seen in the sky, while in summer there is almost perpetual daylight, a state of affairs known locally as the "simmer dim."
In the Alexander McQueen's atelier the hand-painting floral motifs were applied onto a leather frock coat, while 3-D hand-dyed Shetland wild flowers were hand-embroidered on 3D floral dresses. Each flower was hand- stitched individually on tulle. Island floral bouquets were also printed on organza ruffles.
The sheer silk knit lace dress in ivory, with contrast stripes in red is one of our favorites. Square neckline and placket are trimmed with knit-covered buttons and rouleau loops. Hem and sleeves are finished with a scalloped edge detail.