Don't you wish you could indulge in 2 million roses every day? Absolue L'Extrait, Lancôme's regenerating ultimate elixir, contains up to 2 million Lancôme rose cells extracted through a state-of-the-art extraction process, and cultivated via an exclusive biotechnological growth process, Fermogenesis. This allows the luxury formula to preserve the unique properties of the Lancôme rose cells, fresh and intact in their unaltered state. A unique massaging petal applicator has been specially designed for a dual ritual: the black warm side to pick up and apply the cream-elixir and the golden cool side to perform the massage.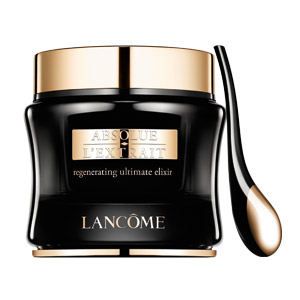 First you should rinse the petal applicator in hot water and dry and than make short, intense smoothing strokes from the neck up to the temples, on one side of the face and then the other. For "step 2" rinse the petal applicator in cold water and dry for a massage made with an upward zigzag application. Start from the chin, following backwards along the jaw line, back forwards above the mouth, up towards the cheek bone, back towards the nose, along the eye contour finishing at the temples.
Along with the "Absolue L'Extrait", Lancôme announced a Swarovski Limited Edition Absolue Precious Cells, a day cream released to celebrate Chinese New Year. Lancôme has teamed up with Swarovski to create this exclusive Limited Edition jar, a true statement of luxury and craftsmanship. Each Swarovski Crystal has been individually applied to create the beautiful Lancôme rose.