The perfect way to leave an impression next Spring.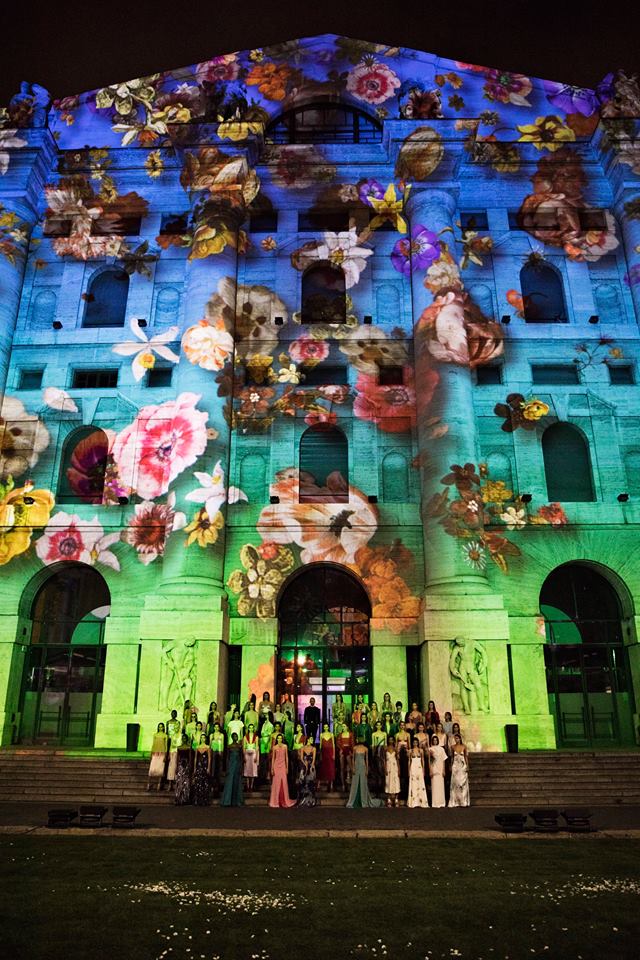 These light installations by Ingo Maurer on the facade of Palazzo Mezzanotte were part of Salvatore Ferragamo's runway show finale, and the beginning of the world premier party of the new fragrance Amo Ferragamo by nose Marie Salamagne.
Bella Hadid kicked off the the Salvatore Ferragamo Spring Summer 2018 runway show. Drawing from a vast time frame and modern silhouettes, the look told a different story with femininity and quality. Accessories added the finishing touch with fine leather details, and pops of colors.
A confetti like collection, the Ferragamo Spring Summer 2018 collection highlights free and independent pieces that beautifully combine together or standalone.
"This collection is a celebration of women's individuality and style," said Fulvio Rigoni, Design Director for the Salvatore Ferragamo Women's RTW collections.
"The man this house is built upon was a pioneer who left his country and built a legend through artistry, ingenuity, and grit. To cite some of his most defining clients—Garbo, Bardot, Perón, and Monroe—in the press release served only to emphasize the difference between then and now. Ferragamo is a great house, but greatness should not be taken for granted. It should be built upon," commented vogue.
On the occasion of the Spring Summer 2018 Women's Collection runway show, the high-end brand announced the world premiere of the new fragrance for her, "Amo Ferragamo". The event was celebrated with a new digital vision created by starchitect Patricia Urquiola, in which surreal meets emotional, representing the feelings conveyed by the new fragrance, launching February 2018.
According to fragrantica, top notes are campari, black currant and rosemary; middle notes are jasmine sambac, mate and rhubarb; base notes are tahitian vanilla, ambroxan and sandalwood."
"Ferragamo don't do bog-standard perfume launches. Oh no. For the launch of their new Amo Ferragamo scent, they created a whimsical Botticellian garden slap bang in the middle of the Piazza Affari, with light shows and flowers projected all over the square's marble facades," commeneted tatler.
"Suki Waterhouse, the face of the scent, came with both of her sisters to marvel over the installation, before Clean Bandit took to the stage," added tatler.