A hotel dressed in the genius of Patricia Urquiola.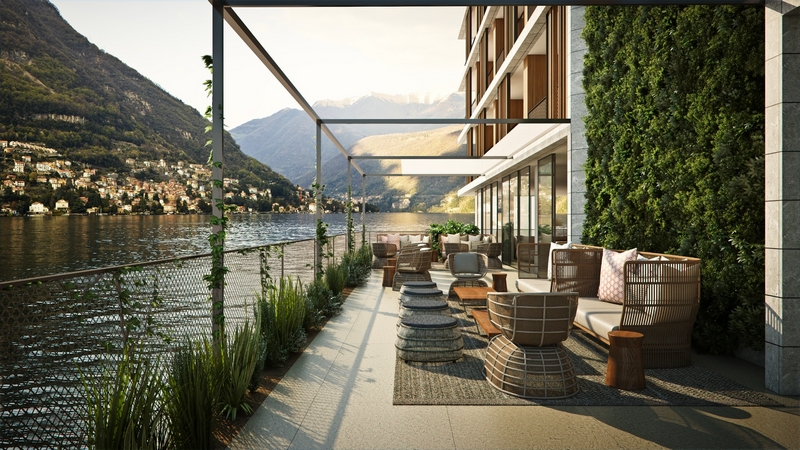 A true labor of love between Sereno Hotels and Patricia Urquiola, Lake Como's newest hotel was designed by Urquiola to bring to life the vision of creating a contemporary hotel with understated décor. The hotel features just 30 spacious luxury suites, each with its own waterfront terrace and unobstructed views of Lake Como.
Situated on a sunny promontory next to the village of Torno and surrounded by peaceful views of Lake Como's natural beauty, lush gardens and idyllic small towns, Il Sereno's location stretches approximately 450 feet along the lake's eastern shore. The design is in contrast to the classical designs that can be found around Lake Como. Urquiola and her team envisioned every facet of the hotel from the architecture to the interior design, which includes designing custom furniture, rugs, wall coverings, lamps, bathtubs and bathroom fixtures.
Modern and custom furnishings created by Urquiola complete the elegant and sophisticated design, with understated earthy tones of grey and walnut with touches of blue and green hues to incorporate the colors found in the surroundings of the iconic Italian Lake. Suite amenities include robes and towels made by D. Porthault for Il Sereno and bath toiletries by Ex Voto Paris, a private bar, 24-hour room service, cutting-edge technology including complimentary Wi-Fi, cordless telephones, flat screen TV's and blue-tooth music systems. In-room spa services are also available. Starting rate for the suites is $825.
At the center of the hotel, Urquiola designed a stunning, original stairwell that serves as one of many focal points around the property. Made with natural materials including walnut wood, the large steps are encased in bronze and effortlessly "float" as the lobby's centerpiece. The dark and beautiful veins of the walnut wood complement the ceppo di grè stone found throughout the hotel. Guests will also find beautiful marble walls with bas-relief patterns that mimic the patterns found in the Venetian terrazzo floors of the restaurant.
Urquiola's collaboration did not end with the physical aspects of the hotel. Lake Como has been producing the world's finest silks for centuries and Urquiola also designed silk scarves, or foulards, that are produced locally for hotel staff uniforms; in addition to a custom design that will be
available for guests.
Il Sereno is the third property to join the Sereno Hotels portfolio after Le Sereno Hotel & Villas in St. Barthélemy and Villa Pliniana, also located on Lake Como. Decorated Milan restaurateur and Michelin star chef, Andrea Berton, is at the helm of the hotel's signature restaurant, Ristorante Berton Al Lago, featuring an exquisite menu inspired by the region.
Amplifying the beauty of the lush green surroundings, Il Sereno features breathtaking botanical works of art designed by acclaimed botanist Patrick Blanc. Il Sereno is the first property where Blanc has created three distinct art pieces in one setting; two vertical gardens and one green sculpture. Entitled "Le Mirroir Vert du Lac," "Le Canyon" and "Les Racines Echasees," each piece boasts thousands of plant species.