Harman Kardon Aura Speaker – A bold new era of sound, function and design.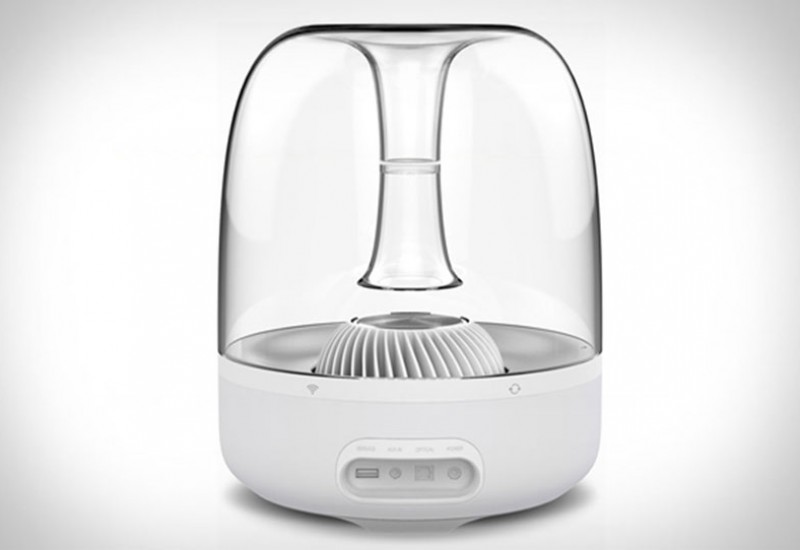 With the latest designs from Harman, the premium global audio and infotainment brand, you can hardly go wrong for a fit with your interior. With the wireless products so you can do away with untidy cables.
With its 6 X 1.5″ high- and mid-range drivers and a 4.5″ subwoofer delivering Omni-directional, 360º sound, this Harman Kardon will surely delight audio purists around the world. It has a sleek design and it is simple-to-use delivering a listening experience like no other.
The Aura speaker by Harman Kardon packs a punch much larger than its modest footprint might suggest. Its transparent enclosure lets you see inside to observe the subwoofer and its custom-built metal housing and illuminating LED.
AirPlay lets you wirelessly stream what's on your iOS device (iPod, iPad, iPhone or iTunes on Windows PCs) to your speakers or AV-system. Bluetooth technology allows you to listen to music everywhere you go, wirelessly. The DLNA Certified devices connect, discover and communicate with other DLNA devices, providing multiple options for delivering music, photos and video-content over your home wired or wireless network.
Om November 22, 2013, Harman opened its flagship store, located at 527 Madison Avenue (at 54th Street) in New York City. It is the ideal shopping destination for those who want to please their most discerning friends and family – from sound aficionados and tech gurus to music lovers and style seekers.
On December, 12, Harman announced also that its Lexicon brand has won a Technical GRAMMY Award, which is presented to individuals and companies that have made contributions of outstanding technical significance to the recording field.
The National Academy of Recording Arts and Sciences announced their Special Merit Awards. Recipients are determined by vote of The Academy's Producers & Engineers Wing Advisory Council and Chapter Committees, as well as The Academy's Trustees.
This year's Technical GRAMMY Award recognized Lexicon's contributions to the art and science of music recording and reproduction through innovation and excellence in product design. The Lexicon brand is in rare company: the only other such award is being presented posthumously to Emile Berliner, who invented and patented the "Gramophone" sound recording device in 1887.
Founded in 1971, Lexicon is one of the world's premier manufacturers of digital effects processing electronics and home theater systems.