More than 1,000 boats on display at 2017 FLIBS from November 1-5.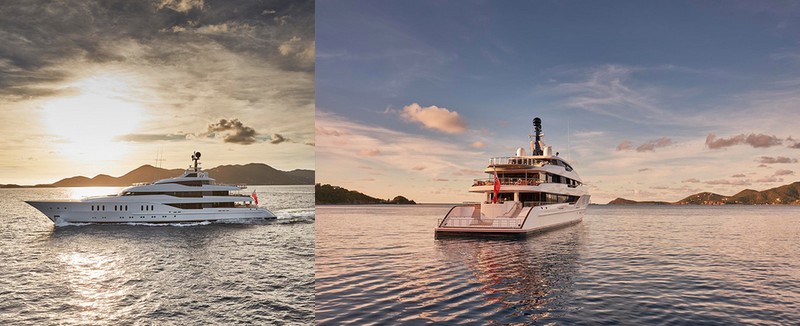 Every November in Fort Lauderdale, the largest in-water boat show in the world draws high net worth individuals from around the globe to shop for the latest and largest luxury super yachts by the industry's most prominent ship builders. The Fort Lauderdale International Boat Show runs through Sunday, November 5, spanning 3 million square feet of exhibition space at seven locations conveniently linked by land shuttles and water taxis.
Multi-million-dollar super yachts comprise an elite subset among the more than 1,000 boats of all sizes and prices on display. This year's largest, a distinction often referred to as the "Queen of the Show," is the 257-foot TV by German yacht builder Lurssen, featuring eight staterooms, an elevator and a helipad. Some super yachts also may be available for exclusive charters, often with six-figure price tags per week.
The 10 largest yachts on display at the Fort Lauderdale International Boat Show from November 1-5:
1. TV yacht
Yacht Length: 257 feet;
Yacht Builder: Lurssen;
Yacht Exhibitor: Edmiston & Company.
2. Cloudbreak yacht
Length: 238 feet;
Yacht Builder/Exhibitor: Abeking & Rasmussen.
3. Vanish yacht
Yacht Length: 217 feet;
Yacht Builder/Exhibitor: Feadship.
4. Double Down yacht
Yacht Length: 214 feet;
Yacht Builder: Codecasa;
Yacht Exhibitor: Thompson, Westwood & White Yachts.
5. SuRi Yacht
Yacht Length: 208 feet
Yacht Builder: Halter
Yacht Exhibitor: Merle Wood & Assoc.
6. Apogee Yacht
Yacht Length: 205 feet
Yacht Builder: Codecasa
Yacht Exhibitor: Merle Wood & Assoc.
7. Mine Games yacht
Yacht Length: 203 feet;
Yacht Builder: Benetti;
Yacht Exhibitor: Denison Yacht Sales.
8. Rock It yacht
Yacht Length: 198 feet
Yacht Builder: Feadship
Yacht Exhibitor: Northrop & Johnson.
9. Helios yacht
Yacht Length: 194 feet;
Yacht Builder: Oceanco;
Yacht Exhibitor: Edmiston & Company.
10. Unbridled yacht
Yacht Length: 191 feet
Yacht Builder: Trinity Yachts
Yacht Exhibitor: Burgess.
Here are some of the not-to-be-missed attractions at this year's show.
# Check out the show's amazing array of boats, marine products and accessories, from super-yachts, fishing boats, runabouts and boats for every budget, to fishing gear, marine art, jewelry and more, all valued at more than $4 billion. Catamaran Cove returns this year and will now be located
at the Bahia Mar Marina show location, featuring a wide variety of catamarans from many of the
industry's leading builders.
# Nothing beats learning from an expert when it comes to improving your boating skills. First-time boaters and seasoned skippers alike can improve their boat handling skills at "Take the Helm" courses sponsored by Carefree Boat Club. Instruction includes basic and advanced docking skills,
anchoring and multi-vessel rafting techniques, open water boat handling, first mate skills and more.
# At the show's Greater Fort Lauderdale/Broward County Convention Center location, catch the Hook The Future kids' fishing clinics where kids get a free rod/reel combo and plenty of other prizes. In addition, the IGFA School of Sport fishing offers a line–up of seminars for adults covering all aspects of fishing.
# The Windward VIP Club Experience, located at the Hall of Fame Marina, offers the luxury of a private dining area, a premium open bar, gourmet food and meet-and-greet opportunities. This climate controlled sanctuary is the perfect platform to network, close business, or simply share the excitement of this international boating spectacular. Each VIP Club Experience package includes show entry, Windward VIP Club access and access to the water taxi. The daily cost for the Windward VIP Club Experience is $225 per person.