Superyacht UK Young Designer of the year is…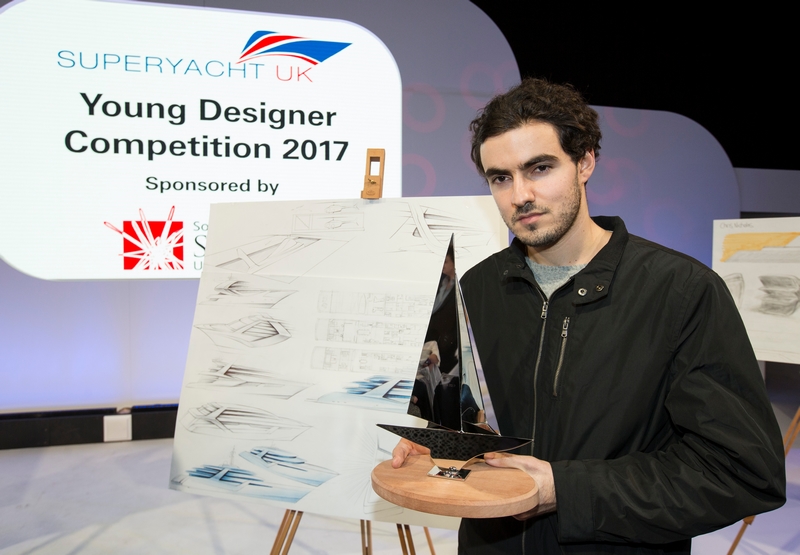 The Superyacht UK Young Designer Competition is a fantastic showcase of the design talent in the yachting segment. The UK is the hub of superyacht design globally and one of the first stops for a potential client.
Christopher Karam, a student from Staffordshire University UK, scooped the top prize in the Superyacht UK Young Designer Competition 2017, in partnership with Southampton Solent University. Held at the 2017 London Boat Show, the presentation was made by Tracey Crouch MP, Minister for Sport, Tourism and Heritage.
The position of runner up went to Michael Hollier, also studying at Staffordshire University.
Nine students from universities across the UK had 36 hours to sketch their design entries live on the Show floor. An expert judging panel, featuring Justin Olesinski of Olesinski, Tony Dixon of Redman Whitely Dixon, Bill Dixon of Dixon Yacht Design, Mark Tucker of Design Unlimited and Peter Brown, Chairman of Superyacht UK & Senior Sales Broker at Burgess, then met to critique the designs and determine this year's Superyacht UK Young Designer.
This annual competition helps raise the profile of the marine industry as a potential career option for young people. Previous winners and runners up, such as 2012's winner, Dan Humphreys, and 2015's runner up, Guneet Sidhu, have gone on to secure successful careers and become established designers in their own right.
For scooping the top prize, Christopher will now go on to complete a four-week design internship at Pendennis Shipyard, a world-class and award-winning custom build and refit superyacht yard in Falmouth. For coming second, Michael receives the opportunity of a week's work experience at Olesinski.
"I am really proud of my design which incorporated all the elements of the brief including a helipad, a slider for two tenders and some cool activities to entertain children. My dream is to work in transport design when I complete my course and I feel sure my prize of a four-week internship at Pendennis Shipyard will provide me with some fantastic experience for my future," commented the winner.