Sessa Marine Fly 21 M Gullwing Designed & Enginered By CENTROSTILEDESIGN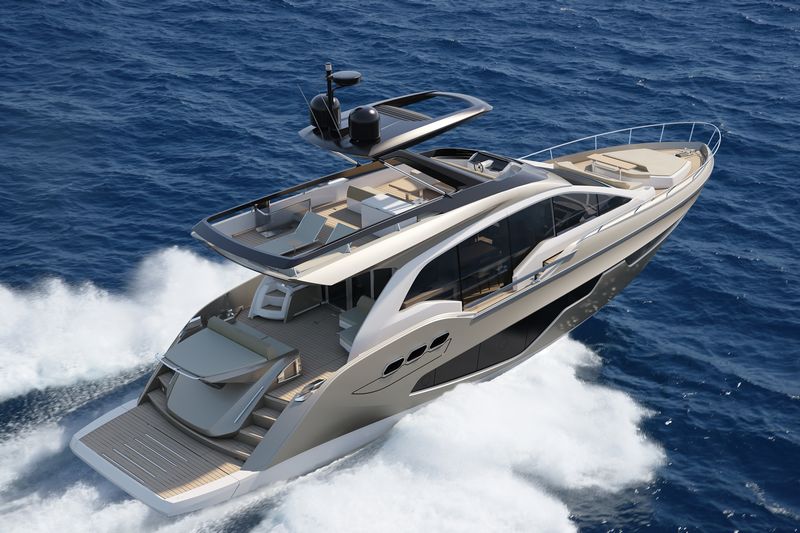 Fly 21 Gullwing is the new flagship of Sessa Marine. With a strong personality, the motor yacht designed in partnership by Centrostiledesign aims to innovate the segment of yachts from 21 meters.
The collaboration sees the design studio headed by Davide Cipriani become official designer for the Sessa Marine boatyard, taking care of the design of the new yacht lines.
First outcome of this synergy is this new vessel where sporty lines, inspired by the automotive world, meet a great livability, thanks in particular to the two gullwing side openings, one of the most distinctive elements of the project. Attention to natural light and its exploitation characterize the entire yacht, where spaces are managed in a manner similar to that of large yachts (the insertion of the sunpad and the bow dinette).
Sessa Fly 21m is the first step of a collaboration that will continue with the development of new lines and models, starting with two trawlers of 64 and 55 feet.
Sessa Marine now offers three top quality lines of open and fly vessels measuring from 18 to 68 feet.
Over the years CentroStileDesign have worked with leading brands known around the world such as Perini Navi, MontecarloYachts, Riva and Pershing (Ferretti Group), SanLorenzo, Solaris and Wally, Maserati, and the Fiat Group. In 2006 the studio were suppliers of the America's Cup Mascalzone Latino team, for which we took part in the project of the famous 'lattice boom', a technical solution boasting extreme lightness and resistance. In 2015 the projects that brought them recognition are the multiple prize winner Riva 88 Florida for the technological development of the "convertible top" system, and the Anvera 55, the first maxi full carbon RIB and undisputed leader of its category.