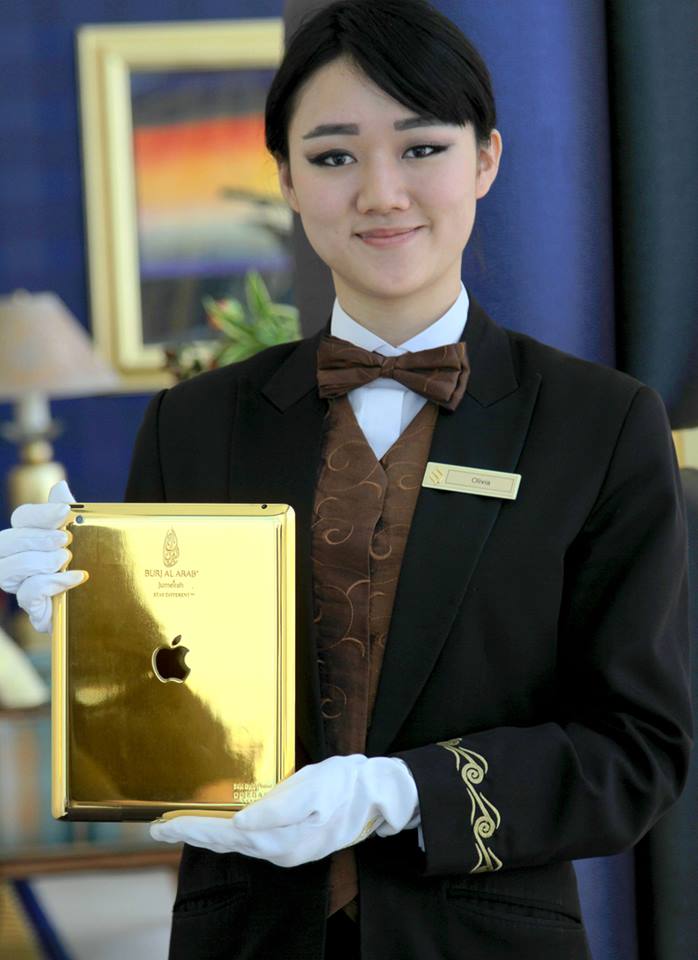 Burj Al Arab Hotel, Dubai's most iconic building, featuring the world's tallest atrium (180 meters = 590 ft), introduced bespoke 24-carat gold iPads for its in-house guests. The exclusive launch makes Burj Al Arab the first hotel in the world to offer the Interactive Customer Experience (ICE) software available on the 24-carat gold iPads.
The 24-carat gold iPads, designed specifically for Burj Al Arab and engraved with the hotel's logo, will be offered to every guest upon check-in. The guests will be able to use the 24-carat gold iPad as a "virtual concierge" and – at the touch of the button – access both information and the extensive selection of hotel services, such as the Guest Services Directory, detailed descriptions of Burj Al Arab's restaurant options and spa menu, as well as private dining, butler and housekeeping services, among many other options.
"Our exclusive Burj Al Arab 24-carat gold iPads epitomise Jumeirah's philosophy of STAY DIFFERENT and further enhance our guests' experience during their stay", said Heinrich Morio, Burj Al Arab's General Manager. "We have also recently introduced iMacs inside all our suites to ensure that we offer thoroughly modern guest experiences and keep up with hospitality industry trends."
"The Gold & Co. London 24-carat gold iPad is the ultimate in luxury accessories, hence we wanted it to be paired with Burj Al Arab, the world's most luxurious hotel. The symmetry is obvious, as both the gold iPad and the hotel are unique in terms of extraordinary quality and design", said Amjad Ali, CEO of Gold & Co. London.
The 24-carat gold iPad is available for purchase at Burj Al Arab's bespoke boutique, alongside the gold iPad mini, gold iPhone 5 and gold BlackBerry Q10.