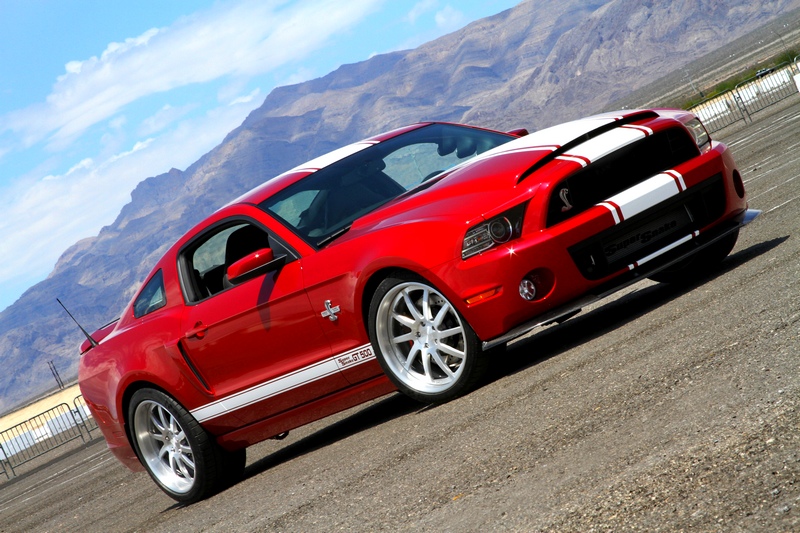 Shelby American is now offering the most powerful versions of the Shelby GT500 Super Snake for the 2013 model year in the company's 50 year history. With a base model rated at 662 HP and an optional 850 HP version, the limited edition 2013 Shelby GT500 Super Snake also features new styling cues, color options and optional performance upgrades like Shelby signature Super Snake stripes in either satin black, gloss white, silver or blue, "Super Snake" vehicle badges, and unique CSM number interior and engine plates, Shelby" lettering across the rear deck lid.
"When Ford launched the 2013 Shelby GT500, we were bombarded with requests for Shelby American to offer a Super Snake package for the car," said John Luft, president of Shelby American. "Our team worked closely with Ford Racing and other key partners to develop our new fire breathing snake. The result is the most powerful base model Super Snake ever at 662 horsepower, which is available at prices lower than previous models. By checking off a few boxes in the series of optional equipment, you can take home a street-legal 850 horsepower version that runs on pump gas."
"The Shelby GT500 Super Snake has been the big dog of the Shelby American lineup," added Shelby American Vice President of Production Gary Davis. "With Ford's new 2013 Shelby GT500 having 662 hp right out of the box, along with our new wide body putting 14 inches of rubber on the ground, this car will be a game changer when it comes to power to the pavement performance."
Customers can choose between Satin Black or Gloss White stripes to be paired with new wheels in Satin Black or Bright Silver Metallic, along with new silver and blue stripes paired with limited base vehicle colors. Offered for the first time in Shelby American's history will be a choice of rear-only or front and rear "wide body" packages with an optional 14 inch rear wheel and tire package.
The 2013 Shelby GT500 Super Snake post-title package starts at $28,995.00 for the 662 HP version and $39,995.00 for the 850 HP model, not including the base car. Only 500 of these cars will be built, all at the Shelby American factory in Las Vegas.