After interior design projects for Parisian hotels Le Petit Moulin (2005), Le Bellechasse (2007) and Le Notre Dame hotel (2010), French couturier Christian Lacroix unveiled a new executive lounge designed for Sofitel So Bangkok luxury boutique hotel.
The 30-storey urban design hotel in Bangkok (opened in February 2012) was created by a reputable Thai Architect and five Thai interior designers, linked to French elegance by Christian Lacroix. Water, Earth, Wood, Metal and Fire are the Five Elements used for the Sofitel So Bangkok's accommodation. The legendary French designer led the artistic direction of the hotel's overall design and also created the uniforms of the hotel staff.
The Club Signature lounge is located on the 25th floor of the 238-room Sofitel So Bangkok and features artistic motifs and images of old Siam, 19th-century France, as well as an art centerpiece with images of French dresses and local flowers.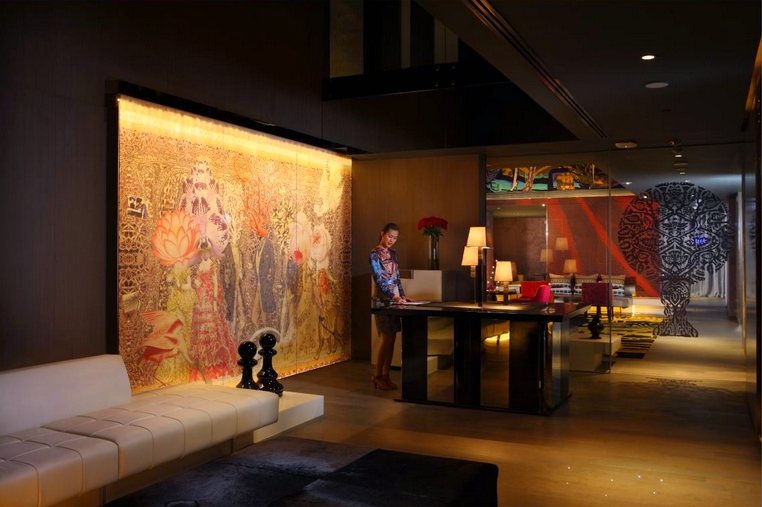 "At Club Signature Christian Lacroix has drawn on his inimitable personal touch of French elegance, theatrical flair, fantasy and folklore to produce a surprising ambience created out of imaginative patterns, rich textures and vibrant colours that combine to offer a surprising interplay of images and motifs of old Siam and 19th- century France. Most eye-catching of all is a huge surreal art piece that greets guests as they enter and in which figures in historical French dress are finished with heads of flowers typically found in Thailand," said the hotel brand.
The inviting environment of Club Signature offers also an array of complementary facilities and courtesies, beginning with personalised check-in, a welcome mini-massage, the So SPA, Signature Evening Cocktails, while coffees, teas, soft drinks, cookies and snacks are available all day.
So Bangkok, "a concept that combines Sofitel art de vivre and personal style entrusted to an international name from the world of fashion, the arts or design," is Sofitel group's second So design boutique property following the Sofitel So Mauritius. Conceived as a story, each So address is a new chapter. "The book opens with Sofitel So Mauritius and the narrative continues with Sofitel So Bangkok, Sofitel So Mumbai…" says the company.