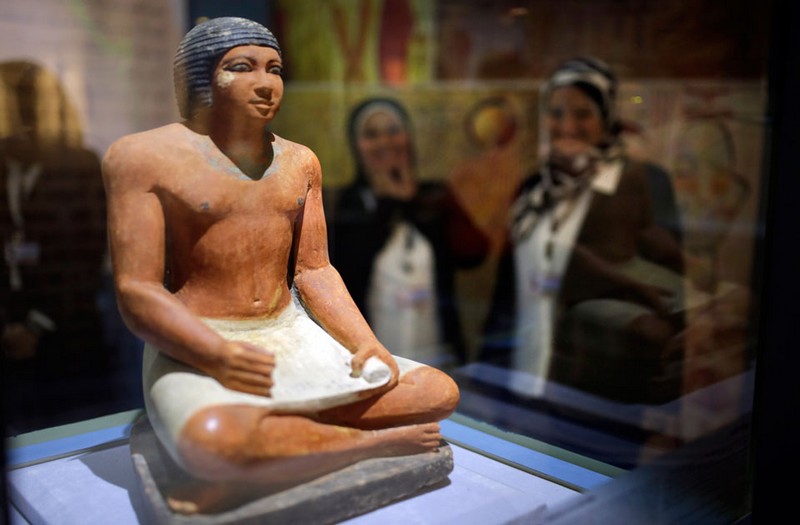 ---
This article titled "10 of the best new museums" was written by Rhiannon Lucy Cosslett, for theguardian.com on Monday 21st December 2015 06.30 UTC
Museu do Amanhã, Rio de Janeiro, Brazil
The spectacular building designed by Santiago Calatrava is itself a draw to this science museum, a 15,000m sq area on the Pier Mauá that incorporates a huge reflective pool, gardens, and cycle paths. The main exhibition at the "museum of tomorrow" is the brainchild of physicist and cosmologist Luiz Alberto Oliveira, and takes visitors through five major areas: Cosmos, Earth, Anthropocene, Tomorrow and Now via a number of experiments and experiences, encouraging them to explore fundamental questions of existence and to envisage the kind of future we all face. The museum opened on 19 December.
• museudoamanha.org.br. Open Tues-Sun 10am-5pm, admission tbc
Tenderloin museum, San Francisco
The downtown Tenderloin neighbourhood has had its problems with crime and poverty, but now a new 3,200 sq ft museum hopes to shift negative perceptions of the area by highlighting the important role it has played in LGBT activism and countercultural movements. The museum also offers walking tours of the area, where your guide will draw attention to historic buildings, gambling dens, legendary bars and places of cultural note.
• tenderloinmuseum.org. Open Tues-Sun 10am-5pm, admission and walking tour $15, general admission $10 adults, children 12 and under free
Grimm World, Kassell, Germany
Fairytale fans will love this new museum dedicated to the Brothers Grimm in Kassell, the town that was their home for many years. The museum focuses on the brothers' significant contribution to folklore, as the authors of Hansel and Gretel, Snow White and Rapunzel, as well as their work in linguistics. Exhibits include original manuscripts and letters, film and sound documents, art installations and more.
• kassel.de. Open Tues-Sun 10am-6pm, admission €8 adults, €6 concessions
Cairo Airport Museum, Egypt
In an aim to attract transient tourists, there is now a museum inside Terminal 3 of Cairo International Airport – it only opened in early December 2015 and remains a work in progress. The museum will eventually contain 38 pieces, many of them antiquities on loan from the Egyptian museum in central Cairo – such as the world-famous Seated Scribe sculpture, made around 2450-2325 BC. Egypt's tourist industry is in crisis at present, and the hope is that the new museum will encourage more people to visit the country and discover its history.
Zentrum für verfolgte Künste (Centre for persecuted arts), Solingen, Germany
This museum of banned works, which opened on 8 December, pays tribute to those painters, sculptors, writers, and musicians who were deemed "degenerate artists" by the Nazis, or persecuted by communist regimes. The exhibits – housed in the Kunstmuseum's Neubergischer-style 1900s building – include banned works, and contextualise them within the life stories of artists such as Carl Rabus, who was arrested by the Gestapo and spent the final years of the war in prison.
• kunstmuseum-solingen.de. Open Tues-Sun 10am-5pm, admission €6 adults, €2 children
Vitraria Glass +A Museum, Venice
There is probably no better place in the world to establish a museum of glass than a 16th–century palazzo in Venice, though this museum is focused as much on contemporary design as it is on the past. Having opened in September 2014, Vitraria Glass +A's current exhibition uses the characteristics of glass – such as fragility, liquidity, and transparency – to explore its decorative use throughout the ages. From February 2015, the exhibition Precious: From Picasso to Jeff Koons looks at jewellery crafted by artists ranging from Louise Bourgeois to Anish Kapoor.
• explore.vitraria.com. Open Tues-Sun 10.30am-6.30pm, admission €8 adults, concessions €5
Arthur Rimbaud Museum, Charleville-Mézières, France
The poet Rimbaud is the Ardennes town of Charleville-Mézières's most famous inhabitant, so it's only fitting that a new museum has just opened in a renovated mill on the river. It gives the public access to a number of valuable manuscripts for the first time, and the museum combines works and objects that tell the story of the poet's brief life (he died at 37) with the literary and artistic legacy that inspired his many admirers, Allen Ginsberg among them. Ginsberg once declared Rimbaud "the first punk". Visitors will also hear his poetry recited through speakers in a dreamlike space called "the Attic", and a selection of his personal possessions from his time spent in Ethiopia.
• Facebook. Open Tues-Sun 10am-noon and 2pm-6pm, admission €4
Whitney Museum of American Art, New York
Designed by Renzo Piano, the Whitney Museum's new building is between the High Line park and the Hudson river, and adds 50,000 sq ft of indoor galleries to the museum's exhibition space, allowing it to showcase its enormous collection of modern and contemporary US art. In addition to an impressive permanent collection featuring Donald Judd, Jeff Koons, Jean-Michel Basquiat, Kara Walker and Lee Krasner, there is an expansive Frank Stella retrospective currently showing on the fifth floor.
• whitney.org. Open Sun-Mon, Weds-Thurs 10.30am-6pm, Fri-Sat 10am-10pm, admission $22 adults, under 18s free
Aïshti Foundation, Beirut
Built to house Lebanese fashion retail mogul Tony Salamé's contemporary art collection, the 40,000-sq-ft Aïshti Foundation opened in October. The current exhibition, New Skin, was curated by Massimiliano Gioni, artistic director of the New Museum in New York and the Fondazione Nicola Trussardi in Milan, and encompasses four floor's worth of works by international artists including Manzoni, Pistoletto, Willem de Rooij and Tauba Auerbach.
• aishti.com. Open daily 10am-6pm, admission free
John Wayne Birthplace Museum, Winterset, Iowa
Only 5,000 people live in Winterset, the birthplace of John Wayne (and also incidentally the setting for the Bridges of Madison County), but fans of the actor have been making pilgrimages there for decades. This year, a new museum dedicated to the star opened, which houses the largest private collection of John Wayne memorabilia in one place, encompassing posters, costumes, signed movie contracts, saddles and awards.
• johnwaynebirthplace.museum. Open daily 10am-5pm, admission $15
guardian.co.uk © Guardian News & Media Limited 2010
Published via the Guardian News Feed plugin for WordPress.