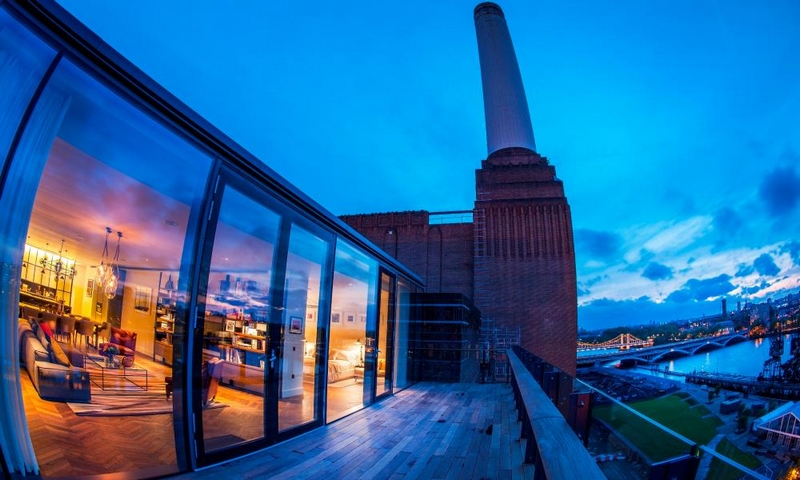 ---
This article titled "£1.5m Battersea power station apartments held back from market" was written by Julia Kollewe, for The Guardian on Thursday 21st April 2016 15.44 UTC
Luxury £1.5m apartments being built in the Battersea power station redevelopment are being held back from the market, as the downturn at the top end of the London property market hits sales.
Prices start at £1.39m for a two-bedroom apartment designed by the architect Frank Gehry on the £8bn site on the south bank of the Thames, while homes from Foster + Partners are marketed for £1.55m and upwards.
The chief executive of the Battersea Power Station Development company (BPSD), Rob Tincknell, told PropertyWeek that 35 apartments were currently up for sale, while another 150 were being held back. "If there is market demand, we will release more units, but the market has softened," he said.
Tincknell added that his company was offering discounts to buyers but would not follow other London developers in doing heavily discounted bulk sales to institutional investors.
"The market is quite challenging – there are fewer buyers around," he said. "That doesn't mean we have stopped – we are still selling apartments, but we're not chasing the market and we're not worried."
BPSD, which is owned by Malaysian investors, said it had sold property worth £110m since November across the whole site.
Properties are being released to buyers in tranches and since the third phase of marketing began in October 2014, 350 of the 539 apartments designed by Foster and Gehry have been sold.
When the first phase of the property sale, 865 flats, went on the market three years ago, they all sold within weeks. About 20 luxury apartments out of 254 that were launched in the next phase two years ago have not been sold.
This is the latest sign that potential buyers are being put off by recent stamp duty rises, while demand from wealthy foreign investors has slackened with the slowdown in China and mounting global economic uncertainty. There are also signs that Britain's potential exit from the EU is weighing on the property market.
Several investment firms and banks have warned that a glut of luxury housing in London has created a bubble, with US bank Morgan Stanley predicting that the price of new upmarket flats could fall by 10-20% this year. UBS warned six months ago that house prices in London were the most overvalued of any major city in the world.
Tincknell's comments came just days after BPSD unveiled its first Gehry show apartment, with the "LA interior" featuring rough sawn oak-fronted kitchen cabinets with open display shelves, while the "London interior" has chevron flooring and a metallic kitchen.
The Canadian-born architect, who lives in Los Angeles, has designed a cluster of five buildings whose sculptural facades are inspired by London's John Nash regency terraces. They are reminiscent of the billowing sails of ships – echoing Gehry's ship design of the Guggenheim museum in Bilbao, northern Spain.
A separate block designed by British architect Sir Norman Foster's firm has a 255-metre roof garden, which looks out on the Gehry buildings. The Foster apartments are styled in a 1930s theme that has been adopted from the power station.
According to property website Propcision, a large number of the homes at Battersea power station that are being resold have had their asking prices slashed.
guardian.co.uk © Guardian News & Media Limited 2010
Published via the Guardian News Feed plugin for WordPress.