Zenvo ST1 exclusive handmade supercar produced in Denmark.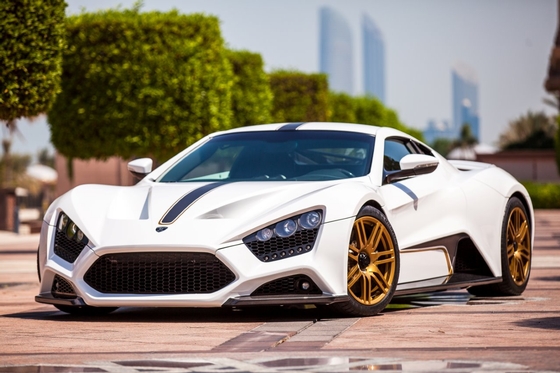 This car is 100% Danish design and it is a real supercar exclusively handmade in Denmark. Zenvo ST1 will make its world premiere with a production unit at the Dubai International Motor Show 2013. With more than 5 years of development, the Danish car manufacturers designed and built a unique stunning supercar that is also ferociously powerful at 1104 hp and accelerates from standstill to 100 km/h in only 3.0 seconds. Along with the superior horse power, the turbocharged and supercharged 7-litre V8 engine that was built in-house produces 1430Nm of torque.
Zenvo ST1 stands out among its competitors. The muscular organic surfacing creates dramatic reflections and is inspired by the muscular tension of a crouching lion ready to attack its prey. In best traditions of Danish design, the model has elements of functionalism and great attention to detail. The interior uses materials of highest quality (quilted Alcantara leather and bespoke aluminum) to create a simple yet exclusive environment that is ready for the track, but still has the comfort of a Grand Tourer. Each car's interior and exterior can be customized to create a truly one-of-a-kind supercar.
In addition, to maintain exclusivity of Zenvo ownership, the manufacturers made a promise to build only 15 ST1s, two of which are already sold.
Aston Martin will celebrate its 100th birthday at Dubai International Motor Show (DIMS 2013) by unveiling the CC100 Speedster Concept. The most expensive and most precious model car in the world will be presented for the first time in the UAE at the Lamborghini Dubai stand. Porsche will bring its latest plug-in hybrid at DIMS 2013.