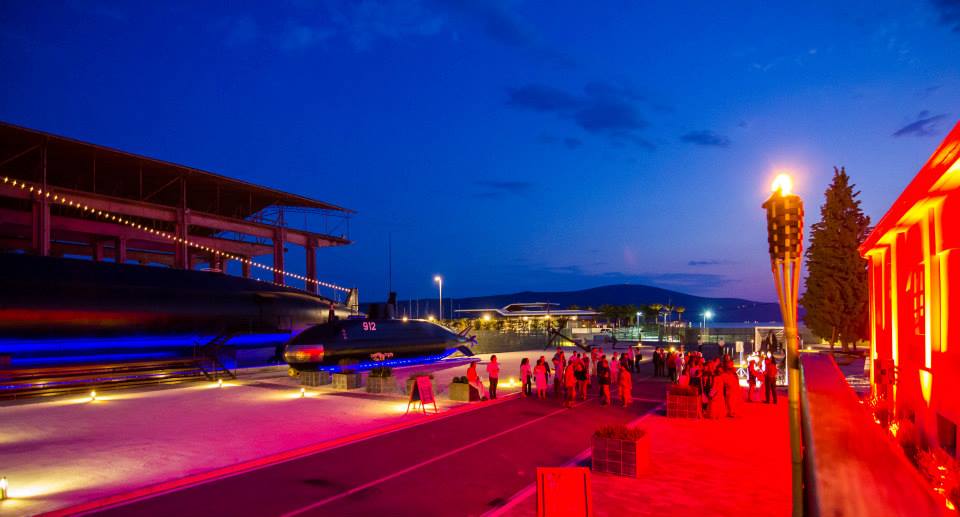 Porto Montenegro, in the Montenegro's fashionable seaside resortcity of Tivat recently completed repairs to the imposing P-821 Hero submarine from the days of ex-Yugoslavia. The everyday life of the submarine crew is on display in front of the Naval Heritage Collection Museum. The colossal P821 submarine is standing proudly across the street from the NHC building. After investing some 100,000 euros in the submarine's restoration, Porto Montenegro,one of the Mediterranean's leading luxury yacht homeport and marina village, opened the P821 to the public.
Although the Bay of Kotor in Montenegro had long been a regional hub for submarine repairs and overhauls, it was not until the Post-War years that they were first manufactured here. The navy blue P-821 Hero sub right in front of the Naval Heritage Collection building was built between 1964-68 before being decommissioned in 2004. This submarine is 50,4m long, with a full speed of 16.3kn underwater. She could go as deep as 210m, equipped with four torpedoes.
The interior of the war vessel was returned to its former labour state. A multimedia corner was also installed, to highlight just what it was like to live on board. Those performing the restoration include members of the 88th submarine fleet of the former Yugoslav Navy.
The submarine collection include a smaller 18,8m sub belonging to a Yugoslavian class of submarines called "Una", built in the 1980s. With six such subs produced, they were designed to plant mine fields and deliver commandoes behind enemy lines.
The R2 mini-sub is only 4.9m and was developed and produced at the end of the 1960's in Yugoslavia, based on a French model. It was intended for transportation, intelligence gathering and sabotage missions. It is still used by the Syrian and Swedish navies today.
Reflecting the area's rich maritime traditions, the Naval Heritage Collection is housed in a beautifully restored building and tells the remarkable story of the Adriatic's maritime past. Showcasing over 300 artefacts, from Yugoslav submarines to the diaries of Montenegro's Princess Ksenija, Austro-Hungarian ship equipment and industrial machines, some of them more than 100 years old, the airy, light-filled space attracts visitors young and old.