Luxury Wine Experience with First Virtual Sommelier: pouring a taste or full glass of wine with just the touch of a finger.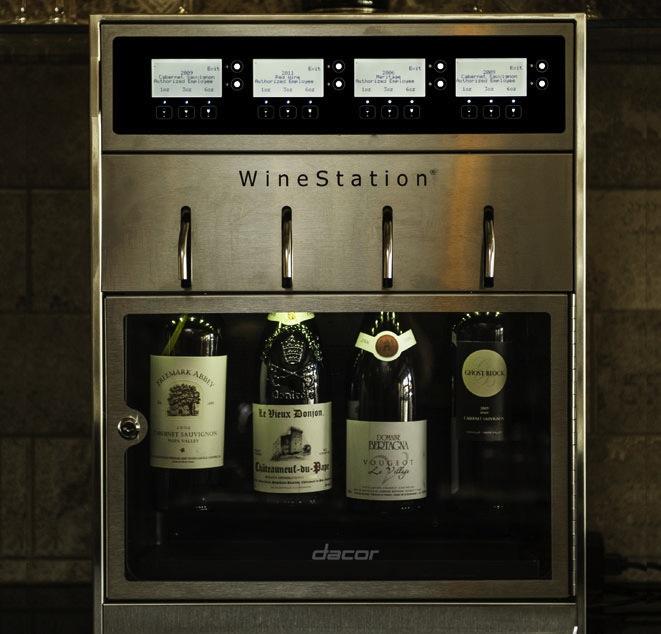 The Discovery WineStation by Dacor is the first virtual sommelier. The built-in, commercial-grade wine dispenser and preservation system for the home not only displays and dispenses fine wines, but keeps contents tasting just as the vintner intended for up to 60 days, even after opening.
Crafted of fine stainless steel, the Discovery WineStation can be built into surrounding cabinetry or displayed on the countertop. The system features four LCD touch panel displays, allowing users to showcase wine varieties and vintages.
The energy-efficient WineStation features a proprietary Thermo-Electric Cooling System, with a temperature range of plus or minus 30 degrees Fahrenheit, designed to preserve white and red wines to each bottle's ideal temperature. Users may also adjust pour volume settings from a one-fourth ounce taste to a full, eight-ounce glass.
Dacor's patented, National Sanitation Foundation (NSF) approved, CleanPour heads allow the user to easily replace the bottles and makes the WineStation virtually maintenance-free. The CleanPour feature prevents the user from having to use chemicals to clean the interior of the product when switching out bottles, ensuring the taste and aroma of the fine wine is kept intact. Each pouring head is fitted with a gasket designed to seal the bottle when the cork has been removed. Once oxygen has been expelled, it is replaced by Argon Gas which is used to prevent oxidation, thus allowing the wine to remain fresh for up to 60 days without the loss of flavor or natural aroma.