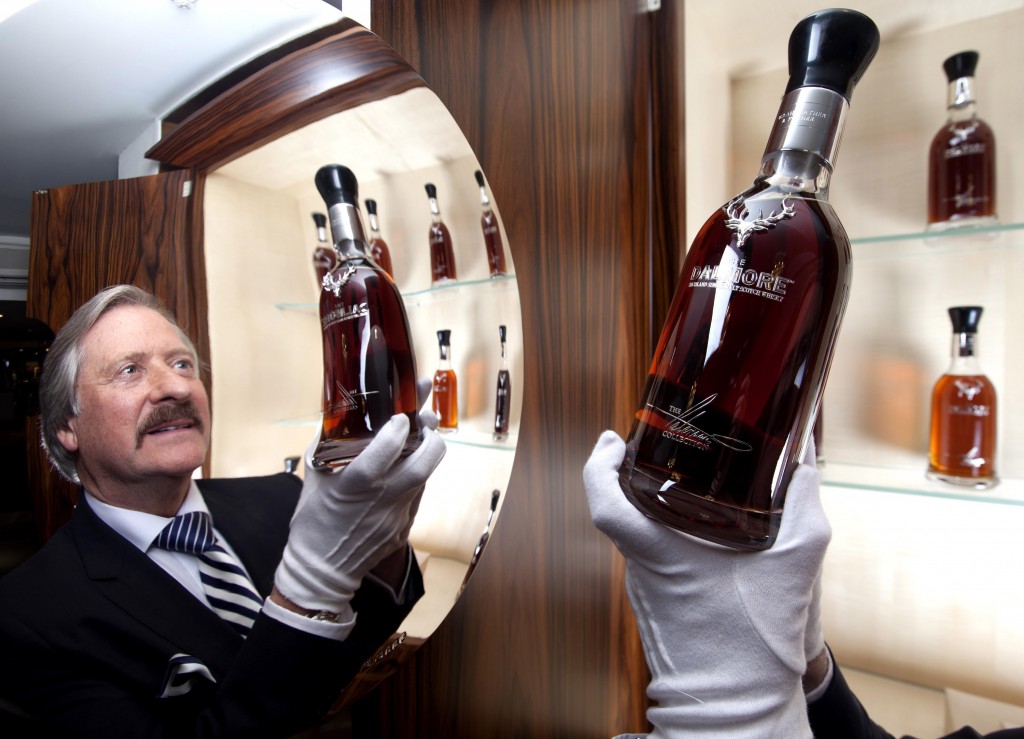 Some of the rarest, oldest and most valuable whisky stock in the world have been united in the Dalmore Paterson Collection – the world's rarest whisky collection created by the world's leading luxury retailer has teamed up with one the world's finest malt whisky brands.
Consisting of twelve bottles, each rare expression has been individually assessed, nosed, tasted and selected by Richard Paterson, master distiller of The Dalmore.
Richard has chosen to name each of these whiskies, dating from 1926 up to the 1990s, in honour of those people who have influenced and inspired him throughout his career, from his own father and grandfather to the founders of The Dalmore's parent company, James Whyte and Charles Mackay.
The personality of Richard Paterson has also been imprinted on the Collection through the creation of a personal and unique hand written ledger, spanning more than 200 pages and taking more than 1000 hours to write, capturing Richard's every thought and step on the way to creating the collection.
The ledger has been created by John Watson & Company , one of Glasgow's oldest printers and long serving suppliers to the whisky industry. Each of the pages have been hand folded and individually foiled in silver with Richard's signature before being bound in a bespoke book made of the finest calfskin leather.
Each of the twelve expressions is presented in a hand crafted full lead crystal decanter, produced by Glencairn, one of the world's leading crystal houses. Luxury jeweller Hamilton & Inches have crafted and hand engraved the silver that adorns each bottle.
The collection itself is housed in a bespoke wooden cabinet, created by one of Britain's leading cabinet makers, Gavin Robertson through more than 700 hours of design and craft.
The Dalmore Paterson Collection – the only one of its kind in the world – went on sale in the newly refurbished Fine Spirits Room at Harrods from 16 July 2013 for 987,500.
The global market for luxury wine spirits continues to flourish with growth of 12% forecast in 2013. This growth is fuelled by a combination of factors, including the continued rise of the Chinese luxury consumer accounting for one in four purchases of personal luxury goods, and the rise of luxury tourism accounting for 40% of global luxury spending. (Bain & Company "Luxury Goods Worldwide Market Study" 2012)
The global market for luxury whisky in particular mirrors this trend, with emerging markets such as Latin America and Asia demonstrating particularly strong demand for rare and vintage expressions. A voracious appetite for single malt is also prevalent across mature markets such as the US, where luxury whisky is one of the most dynamic sectors of the US spirits market with volume sales increasing by 16% in 2012 (CandMResearch, 2013).