The Ultimate Ardbeg ARDventurer.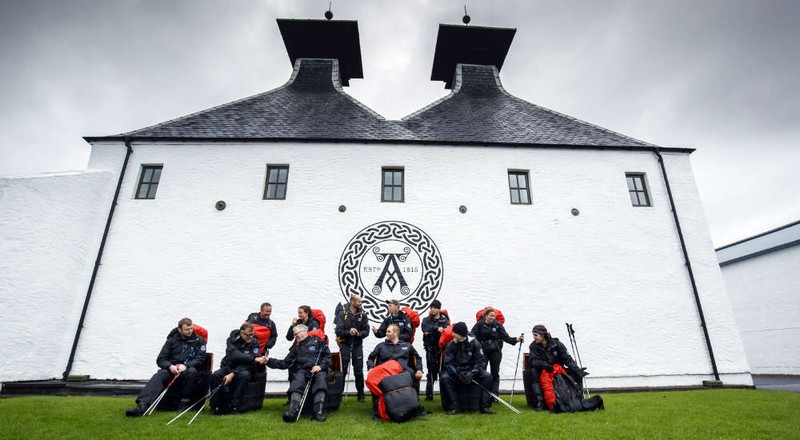 The history of Ardbeg whisky house is intimately interlinked with that of Isley, the remote Scottish island known for rugged coasts and mist-capped hills soaked in Celtic legends. To reconnect with the sources that impart such unique tastes and aromas to this exceptional single malt, Ardbeg imagined an intrepid challenge, inviting ten adventurous contenders to discover the wild untamed nature of Islay, the wild island that has been home to the distillery for more than 200 years.
Islay is the southernmost island of the Inner Hebrides of Scotland. Known as "The Queen of the Hebrides", it lies in Argyll just south west of Jura and around 40 kilometres (25 mi) north of the Irish coast.
This September, Ardbeg invited contestants from around the globe to Islay, the fifth-largest Scottish island and the seventh-largest island surrounding Great Britain, with a total area of almost 620 square kilometres (239 sq mi). Bringing to life Ardbeg's fierce spirit, the brand took its fans on an unforgettable odyssey into essential Islay. Led by Distillery Manager Mickey Heads and survival expert Monty Halls, the ARDventurers spent three days, attempting to conquer the rugged coastline, wild peat bogs, mist-capped hills and brooding lochs as they competed to be named the Ultimate ARDventurer. Within their 12kg packs, each ARDventurer had an intriguing ration pack inspired by the smoky-sweet tastes and aromas of Ardbeg. The ration pack included: a bottle of Ardbeg Ten Years Old, a bar of soap, a line of tarry rope, a tin of sardines, iodine, lime, peat, Vicks VapoRub (menthol), cheese, smoky bacon, black pepper, chocolate, aniseed, almonds and matches. The innovative use of the kit earned contestants vital points in their bid to become the Ultimate Ardbeg ARDventurer.
The Ultimate Ardbeg ARDventurer challenge started at the Distillery and included an arduous trek to Ardbeg's water source Loch Uigeadail, peat cutting which lends The Ultimate Islay Malt its smoky character, rowing a cask of Ardbeg along Islay's perilous coast as did the earliest distillers who transported their cargo by sea, cooking on an open fire (with only a wee dram or two of Ardbeg for comfort) and camping at atmospheric locations such as the 8th Century Kildalton cross – a symbol of Islay's Celtic heritage.
Day 3 was under the sign of wilderness, water and an unwavering Ardbeggian spirit. Inspired by the water that surrounds Ardbeg, the final day of the challenge saw the ARDventurers rowing casks from the Distillery to Port Ellen along the rocky coast of Islay.
The untamed winner of The Ultimate Ardbeg ARDventurer Challenge was Keishi Iwata. The Ardbeg Ten Years Old was the ultimate reward after the Ultimate ARDventurer challenge.