The perfect marriage of high tech and luxurious living.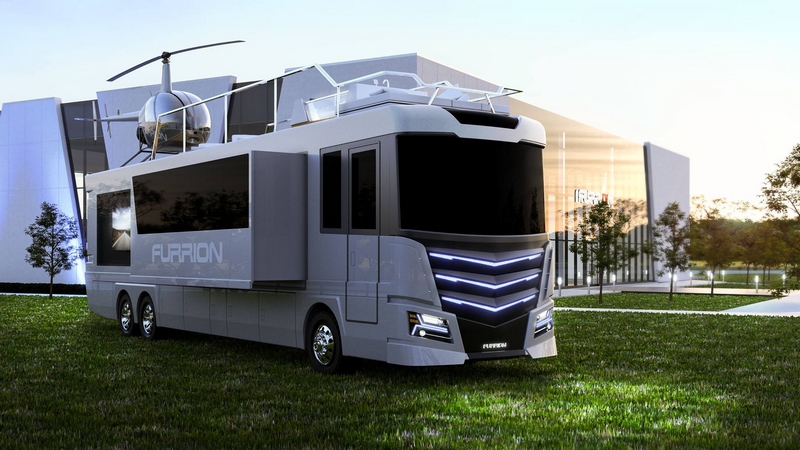 While the Consumer Electronics Show may have seen a RV outside of the show floor before, it has never seen something as large or luxurious as the ELYSIUM. The ELYSIUM is simply the definition of living luxury.
This year's Furrion's Elysium is a 45 ft RV that showcasing Furrion's HDTVs, Kitchen appliances, Audio, guidance and Observation products inside. A first at 2017 CES, the Elysium defines living luxury complete with HTV on the side and back and a rooftop deck that features a helicopter and a hot tub.
The ELYSIUM is 45′ long, 8′ wide, 13′ 6″ high and is a fully operational luxury home on wheels. Complete with state-of-the art Furrion electronics – from three large screen 75′ HDTVs, infotainment systems, cameras, fireplace, a complete kitchen that a chef would love complete with induction cooktop, convection microwave, dishwasher, refrigerator, oven and a wine fridge.
The ELYSIUM RV features future forward technology including a smart toilet and smart shower. The upper deck is perfect for entertaining complete with an entertainment area, hot tub and helicopter landing area where you will find the Robinson R22 helicopter. The helicopter platform lowers above the master bedroom during transport. All the TVs feature Furrion's proprietary Vibrationsmart and Climatesmart technology making sure the picture is always razor sharp regardless of the conditions. The ELYSIUM features the latest in automation, observation and navigation making it a stand out in both the RV and technology world.
Making its' debut at CES is Furrion's Prosthesis, a 20 foot exobionic mech suit capable of running at a speed of more than 21 mph. While at first glance, it looks like an intimidating robot, Prosthesis is actually was built for the pilot and is the creation of responsive, stable and powerful exo-bionic platform that amplifies the motions of the pilot.