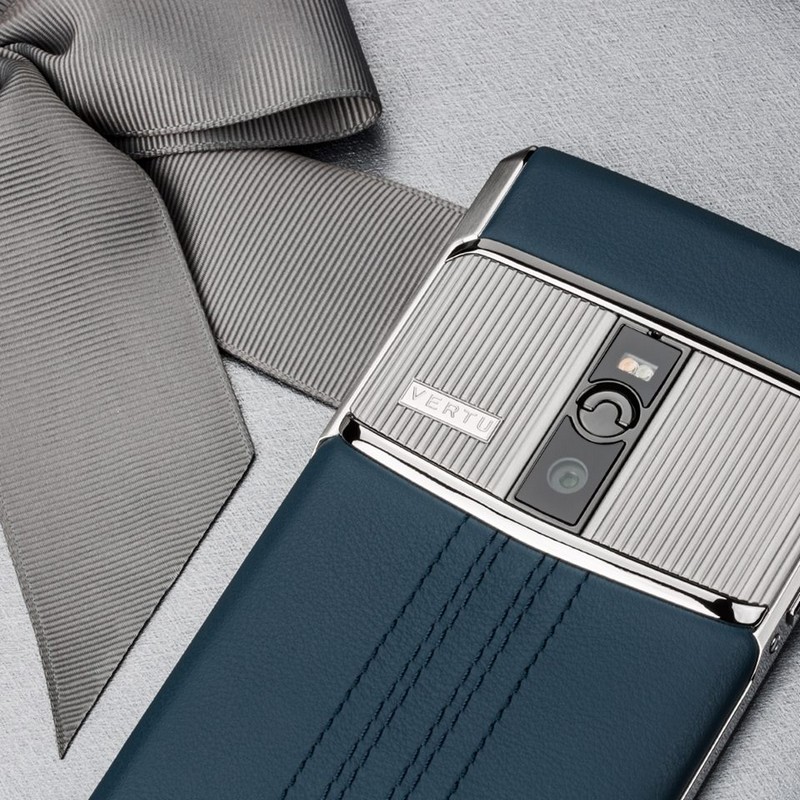 With a design inspired by the Art Deco period the € 9.300 Vertu Signature Touch Teal Fluted makes the perfect unique gift this season. One of the bespoke Signature Touch luxury phones is offered with a music inspired autograph engraving. A unique design, fitting for World-renowned Russian musician and conductor Yuri Bashmet. Vertu is using the most exceptional materials, such as ruby, sapphire and titanium, each carefully selected not just for their stunning appearance but for their exceptional strength. The high-end phone is protected by a solid piece of scratchproof, 130 carat, 5th generation sapphire crystal. The sound experience is driven by Dolby Digital Plus virtual surround sound, while Vertu Certainty enhances our mobile experience with exclusive encryption and security services.
Celebrating the stylish Art Deco period, the Signature Touch Teal Fluted features wonderful fluting in matt finished Titanium on the gull-wing doors. This is complemented with brushed and polished Grade 5 Titanium sides and a hardened black ceramic pillow. Encased in fine leather in lovely Teal Blue, sourced from and crafted by a specialist Italian tannery. As Vertu says, the company uses only the finest natural materials, each handmade Vertu is individual and may differ slightly from this visual.
The Lollipop 5.1 64-bit operating system provides significant speed and security enhancements. The high-performance Qualcomm Snapdragon 810 octa-core processor makes every task smoother and faster. Announce your individuality with exclusive ring and alert tones, all created for Vertu by renowned composers and performed by the London Symphony Orchestra. According to the manufacturer, Vertu owners have complete peace of mind for the Signature Touch with the Lost Phone Service.
Vertu's Signature Touch collection also includes a € 12.900,00 Carbon Sport edition dressed in Orange Calf Leather with Black Racing Stripe. The highlights include Satin Black PVD Titanium Sides with Polished Gunmetal Grey Details, Satin Grey Ceramic Pillow, High Gloss Carbon Fibre Gull-Wing Doors, and Sapphire Crystal Screen.
But this item is not the most expensive in the collection. The Pure Jet Red Gold limited edition with Jet Black PVD Coated Grade 5 Titanium and polished Red-Gold detailing is priced at € 17.900,00, while the Signature Touch Sky Blue with Quilted Sky Blue Calf Leather, Brushed & Polished Titanium, and Polished Red Gold Detailing costs € 18.500,00.
With Vertu's exclusive Made To Order service the future owner can personalise his luxury device to ensure it's a true reflection of his individuality. Select from a wide choice of sophisticated colours, fine leathers and rare metals, and even add your own unique engraving. Once you've completed your design, a single master craftsman in England will faithfully create your unique Vertu with meticulous attention to detail.