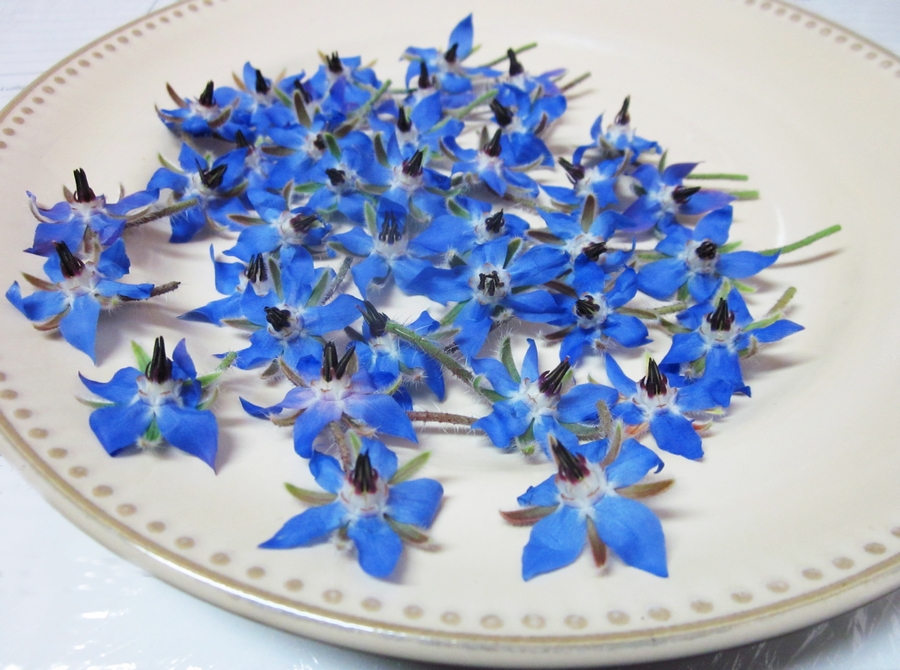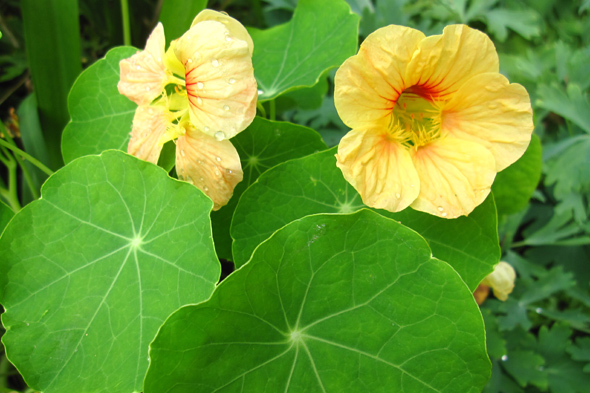 ---
This article titled "Vertical Veg man: six of the best edible flowers" was written by Mark Ridsdill Smith, for theguardian.com on Friday 20th June 2014 09.29 UTC
There's something rather special about serving up a salad sprinkled with edible flowers. Not only are they beautiful and uplifting, singing of summer, they are either impossible to buy in food shops or wickedly expensive if you do find them. They make a beautiful and unusual present: a flower arrangement to satisfy all the senses.
Edible flowers are an easy way to brighten your container garden, and to add colour and novelty to your salads. Some of them taste delicious, and they all look lovely in the pot and on the plate. They also have other uses. Many will attract bees and other beneficial insects to your container garden. I've found bees particularly keen on chive flowers and borage, while coriander and dill flowers are a magnet for hoverflies.
The good news is that if you like the idea of regularly using flowers in your cooking, or being able to give bunches away to friends, it is easy to grow a supply for yourself in just a few containers.
Here are six of the best edible flowers for containers and small spaces.
1. Nasturtiums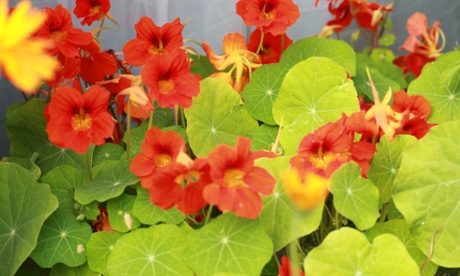 The undisputed monarch of edible flowers is the nasturtium. It adds a tasty, slightly spicy kick to salads, a pleasing crunch, and a gorgeous orange or yellow colour. A couple of plants will provide you with a continuous stream of flowers over a month or two.
And, as the famous Mrs Beaton said about them in the 1800s: "When the beautiful blossoms, which may be employed with great effect in garnishing dishes, are off, then the fruit may be pickled." Pickle the young green seeds in vinegar and they taste a bit like capers. The young leaves are tasty and pretty, too, with a hot, mustardy kick – add them in moderation to salads.
Nasturtiums usually grow fairly easily. The biggest challenge can be that cabbage white caterpillars and aphids love to eat them, too. Pick caterpillars off and squish aphids as soon as you see them – or your nasturtiums may disappear over night.
2. Borage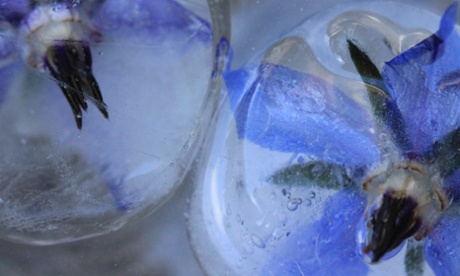 I'm with the bees on this one: I love the bright blue flowers of borage. The flowers can be added to summer drinks and fruit salads, and you can make your ice cubes the object of culinary curiosity by adding borage flowers. The young leaves are also supposed to be edible, though I wouldn't recommend them – I've tried eating them several times but have always found them rather bristly. Nevertheless, I make sure I have at least one borage plant in my container garden every year.
3. Pot marigolds (Calendula)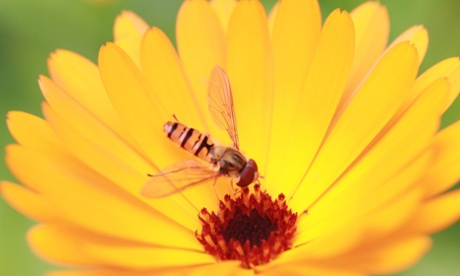 These cheery orange flowers glow amongst the green salad leaves in my container garden. Strip the golden orange petals off pot marigolds to add colour and a mild tangerine bite to salads.
4. Courgette and squash flowers
Both courgette and squash flowers are delicious stuffed, or added at the last minute to risottos, adding colour and flavour. You can deep fry them to make tempura flowers, too. A chef who attended one of my food growing workshops in London told me he had to pay around £2 for one courgette flower. As one courgette plant may produce several dozen flowers, it can be a valuable crop.
5. Violas
Violas do not have as much flavour as some flowers, but they are special for their ability to keep producing a supply of flowers into late autumn and even winter in warmer years, brightening up salads in the gloomiest months.
6. Chives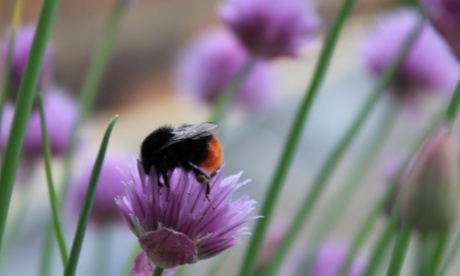 Chive flowers are an elegant way to add onion flavour to a dish. They have a pleasing crunch, too. Bees love chive flowers and of course the long thin leaves have many uses in the kitchen. An indispensible plant in the container garden.
These are just six of my favourites. Other plants that make good container crops and have tasty edible flowers include runner bean, rosemary, sage, coriander, rocket, and the yellow flowers of Asian mustards like pak choi and mizuna. Some of the other flowers you can eat are more surprising: some fuscia flowers and tulips are edible.
As you know – as when eating anything new – you should always double-check you have correctly identified the plant and that what you are eating is safe to eat. Daylilies are edible, for example, but many other lilies are most definitely not. Similarly, you can eat the flowers of your pea crop, but not those of sweet peas.
Finally, a word of warning. Do check that others are happy for you to eat their flowers before you tuck in. I caused considerable consternation on a visit to my mother-in-law's when I wandered into her garden, plucked a daylily, popped it into my mouth and gave it an appreciative chew. Apparently some people grow flowers to look at rather than to eat.
Mark is founder of Vertical Veg, a social enterprise that inspires and supports food growing.
Interested in finding out more about how you can live better? Take a look at this month's Live Better Challenge here.
The Live Better Challenge is funded by Unilever; its focus is sustainable living. All content is editorially independent except for pieces labelled advertisement feature. Find out more here.
guardian.co.uk © Guardian News & Media Limited 2010
Published via the Guardian News Feed plugin for WordPress.