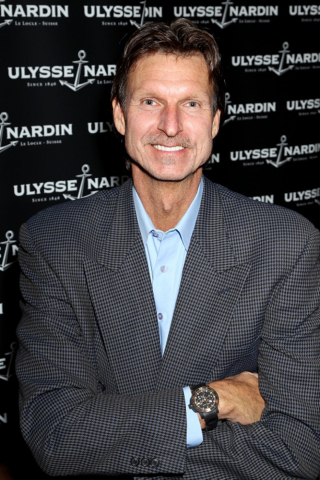 Luxury Swiss watchmaker Ulysse Nardin and brand ambassador, Randy Johnson unveiled "The Big Unit", a new, signature timepiece created in Johnson's honor, announced the Swiss Watch Manufacturer founded in 1846.
"The Big Unit" chronograph is monochromatic in rich black with accents of blue and red. Its 45.8 mm diameter case is made from stainless steel, coated with rubber and finished with a sapphire glass case back which enhances its ability to withstand the most challenging environments.
Ulysse Nardin Big Unit timepiece also presents a special personalized chronograph seconds hand adorned with the iconic baseball symbol and inscribed with the name "Big Unit" and the number 51 on the bezel to honor the legend. Only 100 pieces of the watch were made.
"We are honored to have teamed up with baseball great Randy Johnson, and we are excited to unveil our efforts at creating an innovative timepiece named after him," said Patrik Hoffmann, Ulysse Nardin CEO. "We feel it truly conveys the remarkable qualities of precision and excellence in this elite athlete."
The latest Ulysse Nardin watch launches include also Monaco Limited Edition combinig its dual function as a diving instrument and beautiful watchmaking piece, Caprice Butterfly watch produced in Enamel Champlevé, and the El Toro Limited Edition.