Bacardi Tang Green Tea-distilled liquor.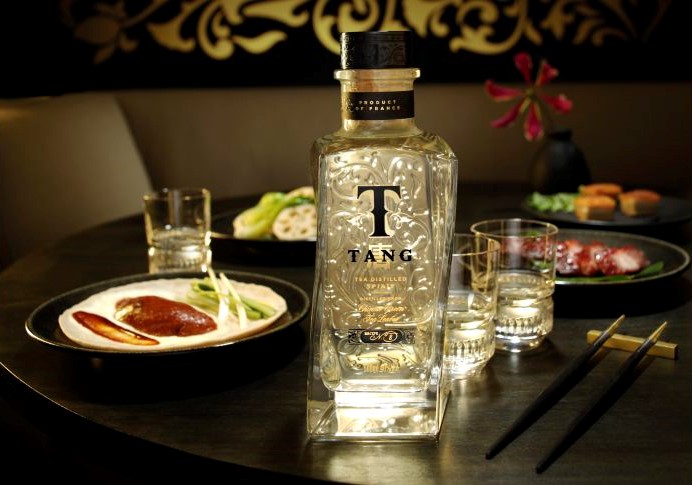 Every new season brings a new drinking experience. This year's innovation comes from Rum maker Bacardi Limited. Developed specifically with Chinese consumers in mind, Tang is a spirit distilled entirely from green tea leaves. Produced in a Cognac town (Commune), Tang has been crafted purely from green tea leaves and French spring water.
The name 'Tang' is inspired by the mighty Tang dynasty, China's first Golden Age of antiquity. The cutting- edge distillation process behind Tang marks a breakthrough in the world of spirits. Due to the composition of tea leaves and the absence of simple sugar, the experts developed a groundbreaking process that successfully releases complex sugars from tea leaves and transforms them into a fermentable form, resulting in a beautifully aromatic compound that forms the essence of the spirit. This is then concentrated and meticulously blended in different fractions by top master blenders who retain only the most pleasant and intense flavors. The precious liquid is then combined with its ideal complement, nothing more than the finest spring water from France.'
Only 2,000 bottles of Tang are produced each time and the first 500 bottles will be individually numbered.
"Since the Tang dynasty, China has developed a profound appreciation for tea, a 'holy herb' that is held in high esteem throughout this country's long history. When we succeeded in creating Tang, it made sense to us that China be the first in the world to experience it," says Guillaume Dock, Global R&D Director for Bacardi. 
"With green tea forming the cornerstone of Tang, we believe we have created a truly unique product that tastes entirely new yet inspires a nostalgic familiarity that will intrigue the most discerning Chinese palate."
Characterized by its distinctive aroma and robust tea flavour, the new spirit is a delicious accompaniment to Chinese dishes. At first encounter, the spirit has bold and fragrant aroma. When consumed, a smooth and bitter-sweet taste of tea envelops the mouth, and creates a delightfully long, lingering finish that leaves behind a line of heat that extends to the belly. The liquid can cut through grease and enhance the taste of Cantonese and fusion dishes that are light and flavorful.
At restaurants, Tang will be served on a stunning tray that features a striking centerpiece – a black metallic lantern with intricate cutouts of tea leaf motifs that encloses the illuminated bottle. It is coupled with heavy crystal cut glassware reminiscent of wine goblets used by imperial emperors.
TANG is recommended to be consumed neat, at room temperature, without ice. The complex TANG taste profile is equally delightful when mixed in cocktails.