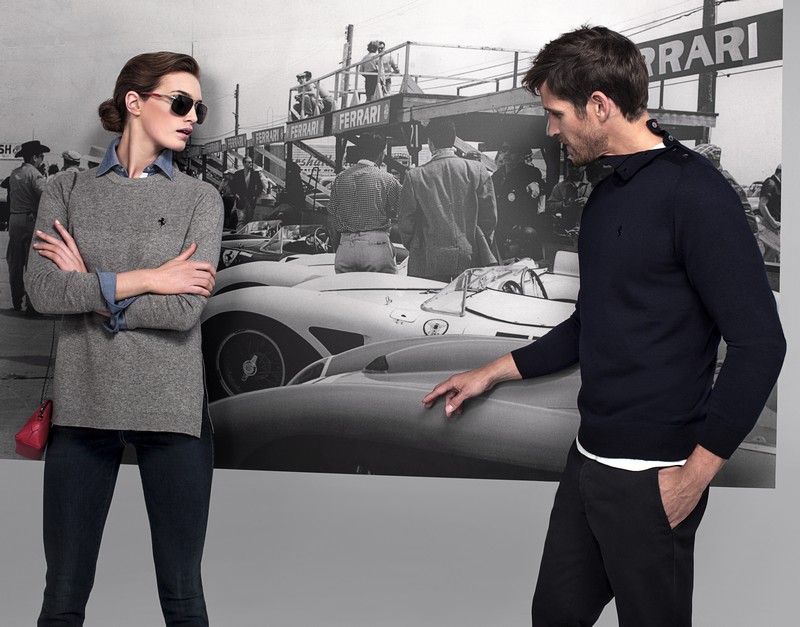 For those who adore superb quality automotive-inspired garments, Ferrari has created a sporty yet sophisticated look featuring detailing inspired by iconic elements of Ferrari legendary GTs: from colours to bodywork liveries, cabin trim to steering wheels.
The Autumn/Winter Collection's signature colours are dark yet warm, spanning varying shades of red, black, navy blue and even a bright blue. That said, in the women's collection, some concessions have been made to pastel shades such as beige and powder pink, which are often paired with exclusive crystal detailing.
The men's and women's capsule collection inspired by the Ferrari 488 Spider, however, centres around "Blu Corsa" with all the pieces in shades of black and Blu Corsa as well as featuring auto and motorsport-derived detailing.
Numerous accessories, many coordinating, add a rich finishing touch to the overall look. Debuting this year are lovely rectangular and square scarves with newly-designed motif and the Trademark bag range which includes a practical Travel Bag, the original Helmet Case launched last season, a laptop case, shoulder bag and beauty case. All made from buttery soft calfskin with red stitching, linings and patent leather piping.