Exclusively endorsed by the Singapore Jewellers Association and the Diamond Exchange of Singapore, Singapore Jewellery & Gem Fair is the most important fine jewellery event in Singapore and the region.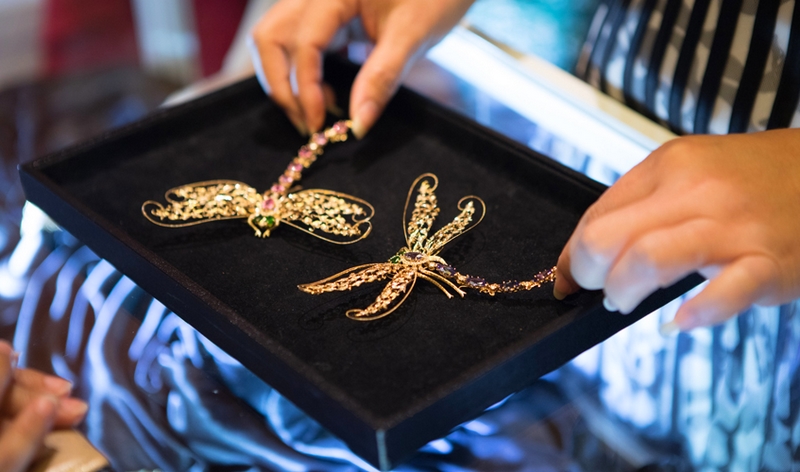 A breathtaking array of stunning jewellery awaits visitors this weekend at the Singapore Jewellery & Gem Fair 2016. A range of exquisitely handcrafted jewellery, first-time pieces, to view or buy, include Peranakan-themed jewellery from Foundation Jewellers, pieces from the Italian jeweller Famosi Singapore, as well as antique and vintage jewellery from Revival Vintage Jewels & Objects.
Over 100 upcoming designers, international manufacturers and private boutiques are exhibiting at the fair, which takes place at the Marina Bay Sands Convention Centre Singapore from Friday to Monday, 4-7 November 2016.
Some of the unique intricate jewellery pieces that Foundation Jewellers are exhibiting include an elegant Peranakan silver belt with phoenix-motif buckle and a stylish tiara shaped pendant. Both pieces are encrusted in brilliant-cut diamonds, set in 18-karat yellow gold to symbolise the grandeur of royalty.
Revival Vintage Jewels & Objects features a stunning diamond double clip brooch designed as a scrolling baguette and circular-cut ribbon by Trabert Hoeffer Mauboussin. The brooch's timeless beauty dates back to the 1940s.
The Oro D'Italia Pavillion presented by Famosi Singapore and Made in Paradise Luxury hosts Italian brands like TODINI, Santagostino, Massimo Ripa and Mario Buzzanca, which are new to Singapore's jewellery market.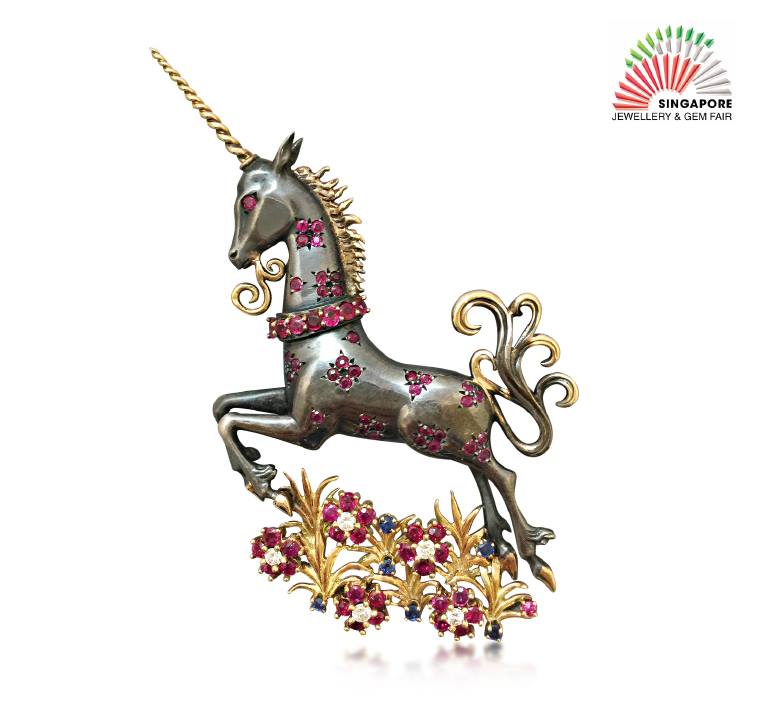 The Singapore Jewellery Design Award
Themed "Metamorphosis", this year's Singapore Jewellery Design Award (SJDA) competition challenged design students to create riveting and commercially viable jewellery for the modern women through versatility, innovation and creativity. The most outstanding designs will be transformed into dazzling pieces of jewellery, produced by SJDA's official manufacturing sponsor — Lee Hwa Jewellery.
The list of 2016 winners are:
Category A (Day & Night) – Winner: Liubov Klivitkina, Russia, The Moscow State University of Design and Technology;
Category B (Past & Future) – Winner: Abigail Cutaran, The Philippines, University of the Philippines;
Category C (Fluidity & Solidity) – Winner: Lee Yu Chien, Taiwan, Taiwan Jewellery Arts Institute.
"Young designers play a pivotal role in injecting the jewellery industry with a fresh contemporary outlook on the creative development of jewellery designs and techniques," said Charles Ho, Managing Director, On Cheong Company Pte and President of the Singapore Jewellers Association.
"Their artistic creativity will revolutionise the industry and bring innovative designs to life. Through the awards, we hope to tap into the abundance of raw talent out there and recognise these promising young designers by providing them the opportunity to display their unique skills and designs."
Kean Ng, Business Director, Lee Hwa Jewellery, said, "The theme calls for designs that would showcase versatility, innovation and creativity through a keen understanding of the current jewellery market. This year's entries have provided an encouraging outlook on the future of the jewellery design landscape in Singapore. We would like to thank all the participants and congratulate the finalists and winners of the competition."
Jewellery insights at your fingertips
Throughout the four-day event, the Singapore Jewellery & Gem Fair is hosting a series of seminars and workshops designed to educate visitors about the latest jewellery design and gemstone trends. The seminars will feature distinguished experts such as Tanja Sadow, Dean and Director of Jewellery Design and Management International School and Panissara Navasamakkarnanja, Instructor, GIA Education, who will be sharing their tips, insights, perspectives and knowledge on topics such as "Marketing Gemstones & Jewellery to Millennials", "A Guide To Collecting Vintage Jewellery" and "History and Value Factors of Pearls" to allow participants to learn, understand and gain a more profound appreciation of fine jewellery and gems.