Be one of a kind in this sleek Arneson drive open style cruiser.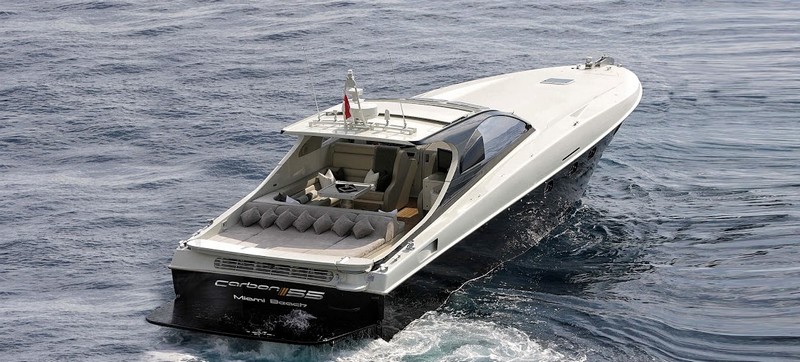 In recent years, OTAM's Millennium range has been enriched with four models, a 50′(open) a 58′ (open) a 65′(hard-top) and a 80′ (25 meters). Otam also purchased and restructured a new boatyard near Genoa International Airport. The Otam Millenium 55′ powerboat, the latest addition to OTAM's portfolio, was unveiled at the latest edition of Fort Lauderdale Boat Show.
"Carbon 55" with Italian designer interiors, Wet Bar, bbq, swim platform, and outdoor kitchen is a very unique European Modern Yacht that has both style and speed, like nothing else out there on the water.
The powerboat is equipped with twin Arneson Drives with two Cat C32 engines delivering 1,724 hp each with a top speed over 55 knots. Created as a support boat for super yachts, Otam Millenium Carbon 55′ is 18.7 meters long, with a beam of 4.68 meters. The boat sleeps 4 guests in 3 cabins, plus crew.