Own a floating green island for $6.5 Million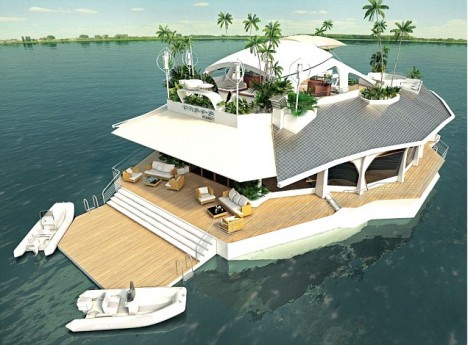 A new man-made, sustainable floating island concept was presented by an Austrian firm that wants to combine the best of mainland real estate and a super yacht.
The Orsos Island conception combines personal atmosphere, experience in the middle of the nature and the mobility of a yacht, with the comfort of a mainland home. The Island is over 20 meters wide and more than 37 meters in length. With about 400 m² on each floor, the Orsos offers up to 1,000 m² of living space. Equivalent to six double rooms, the concept offers plenty of room for up to 12 residents.
" In the beginning, my goal was to create an exclusive, high-quality hotel chain based on floating platforms. With the progress of the project it became clear that the attractive and unusual concept of ORSOS Islands should not be limited to only a selected group of people," said Gábor Orsós, the creator of the floating Island.
"ORSOS Islands should reach a much broader audience, people with an awareness of modern life and a feeling of responsibility towards the environment. The luxurious yet affordable Islands offer much more than just the traditional ordinary holiday atmosphere."
The high level of environmental friendliness that characterizes the luxury Island is due to, among other things, an autonomous power supply based energy system.
This is powered, both day and night, by a blissfully noiseless wind energy system, as well as more than 160 m² of solar panels making the most use of daylight. Heat recovery from sea water is the basis for heating and air conditioning.